Why You Should Follow Your Curiosity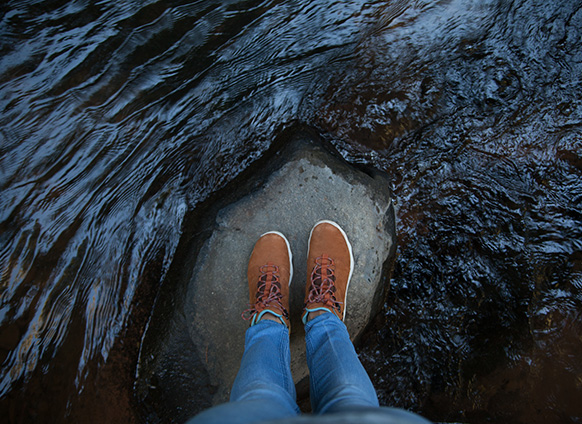 When considering a career and a lifestyle, people often offer the advice to follow your passion. It seems like solid advice, but what happens if you don't know what your passion is? People ask me all the time how to find their passion, which is always a hard question for me to answer.
Until my conversation with Elizabeth Gilbert.
You might know her as the author of the New York Times best-selling book turned movie, Eat, Pray, Love. What you might not know is that her perspective on following your passion is much different than you may have ever heard.
Since she was 6 years old, Liz knew that she wanted to be a writer. She focused on who she wanted to be and never expected her book to take off the way it did. Her focus was never on how the audience would respond, but always being the best version of herself as a writer. With her success with Eat, Pray, Love, so many doors opened up for her and eventually led to her being invited by Oprah to be a speaker on her SuperSoul Sessions tour. It was during one of her talks that an audience member changed her perspective on passion.
As many creative individuals do, Liz also offered the advice of following your passion. She always said that you know what you're passionate about when you would do anything to do that one thing. However, this audience member asked whether not knowing what one's passion was made that person a failure.
It dawned on Liz at that moment that not everyone could say that they have always known what they wanted to do. So how do they find what their passion is? They follow their curiosity.
To Liz, there are two categories of people when it comes to this subject: jackhammers and hummingbirds. The jackhammers, which she identifies herself as, are the ones that have always known what they wanted to do; they're loud and impulsive and determined. Then there are the hummingbirds. The hummingbirds exist to cross-pollinate, taking ideas from multiple places, and are responsible for keeping the culture open to new ideas.
A lot of times, society doesn't give enough credit to the hummingbirds. These individuals often explore many different areas, whether it's through careers or hobbies, in order to find what their passion is. Finding your passion isn't about looking for a big sign to point you to it but being open to the invitation of creativity. As Liz points out, if you are truly following your curiosity, your eyes have to be on the ground looking for the next clue on your scavenger hunt.
I consider myself a humming-hammer. In my business, I am constantly testing new things, but when I do, I go all in. It aligns with how I always describe living my life like a sports season.
There are many things that I have been able to bring to my business as an athlete, and the mentality of living in seasons is a powerful one. There is the pre-season, the regular season, playoff season and post-season. The pre-season is when I research new ideas and see what is working in other businesses, which then of course flows into the regular season, when I am testing to see how everything is working. If everything is working according to plan, we make it to the playoffs, where the focus is on the championship (or in this case, creating the best product possible). During my post-season, I evaluate the season and from there determine whether I want to continue on the path I'm on or change the path.
It's not always easy to cross into the unknown and try something new, but that's what I love about Liz describing this as curiosity. Often times, whether in business or in life, fear holds us back from discovering what our purpose is. It can be disguised in anxiety, apathy or acidity, but if we give ourselves permission to explore our curiosity, it can lead us to finding our passions.
Listen to the full episode here.
Lewis Howes, author of the New York Times best-seller The School of Greatness, believes that how you feel every moment is more important than what you do or what you have. As a lifestyle entrepreneur, high-performance business coach and keynote speaker, he was recognized by President Barack Obama as one of the top 100 entrepreneurs in the country under 30.