Why I Left My Cushy Corner Office
I may have a screw loose. I've decided to walk away from one of the best jobs in advertising and from an agency, Mother New York, I co-founded.
My decision has everything to do with following my heart and gut. The same instinct that drove a leap of faith 12 years ago with Mother is now telling me it is time to springboard to my next venture. It's something all entrepreneurs feel when they begin something new, I think.
As I jump once again into something uncertain, I find myself contemplating what I call The Branson Scale—a self-assessment of entrepreneurial desire I've concocted over the years.
On one side of the scale, there are folks who seek the comfort of a 9-to-5 job with a pension, while on the other side of the scale, there's someone like Richard Branson—restless, hungry and always looking for the next adventure. Everyone moves along the spectrum, depending on his or her own personal experiences and circumstances. The balance in your savings account, the success of past ventures, the people you have rallying around you, your level of fed-up-ness in your current job—all this and more can factor into where you fall on The Branson Scale at any moment in time.
Looking back, I was restless from the start. Once we had achieved some stability with Mother, I started a ventures practice and began learning and experimenting in new startup ideas. I was dabbling, investing and incubating while still staying squarely focused on the core business at hand. Now I want to go deeper. I want to take on more risk, and key to that is doing something entirely new for me—something I'm not, on paper, qualified to do. After all, was a music and media impresario like Branson qualified to run an airline?
So I may as well tell you about my first new venture. I've co-founded a company called The New Stand. It's one part convenience store and one part media platform. In high-traffic locations like transportation hubs, hotels and office buildings, our small stores will sell essentials for your journey while also introducing you to new products, content and experiences. Our first location opened at the Union Square subway station in New York City this past November.
For the time being, I'm once again living off of my savings and adrenaline. I couldn't be happier.
—An essay by Andrew Deitchman
Are you afraid of risks? Find out 5 ways to be bolder.
This article appears in the January 2016 issue of SUCCESS magazine.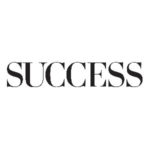 SUCCESS is your guide for personal and professional development through inspiration, motivation and training.