8 Travel Destinations for Wellness, Relaxation and Rejuvenation
If the past three years taught us anything, it's that our mental and emotional well-being are just as important as our physical health. Although wellness-themed travel is nothing new, post-pandemic travelers might also be eager to skip secluded resorts or tourist traps (with a few exceptions, of course) and instead immerse themselves deep within a local culture to rejuvenate their social lives.
4 year-round wellness travel destinations
The more traditional and contemporary wellness amenities (think steam baths, argan oil and essential oils) are also available for spa-seeking travelers. So whether you are hoping to energize your lifestyle or restore your five senses, there are places to rejuvenate—and luxuriate—throughout the world.
Tucson, Arizona
Wide open spaces, endless sunshine and a deep tradition of healing await in the Sonoran Desert. There's a history to the city's healing energy, and it began around 350 B.C., during the time of the Hohokam Indians who lived in the Tucson Valley. It's estimated that they used "the more than 3,500 native plant species for food, shelter and medicinal purposes," according to Visit Tucson. While the Hohokam people abandoned the area nearly 2,000 years later, botanists today still go to the Sonoran Desert to retrieve herbs and plants such as lavender and acacia that treat various ailments.
The famed Canyon Ranch specializes in a holistic approach that works from the inside out. Companies come here for curated corporate wellness programs promoting work-life balance. Bringing teams together in nature and in an interactive and restorative way can provide a boost for employees. Team or no team, guests can always book a day pass.
Located in the foothills of Tucson's Santa Catalina Mountains, guests at Miraval Resort & Spa are invited to embrace a slower pace of life. With room amenities from outdoor showers to private plunge pools and fire pits, it's easy to feel at one with nature. An interactive equine program helps you unlock your creativity, improve your communication skills and let go of behaviors that don't serve you. Under the guidance of an experienced equine manager, guests can further improve their relationship with themselves and their well-being.
Ibiza, Spain
While it's true that the island attracts party-hard types from around the world, Ibiza caters to health and healing as much as it does hedonism. One of the four Balearic Islands, it is home to myriad wellness retreats as well as luxurious and indulgent spa treatments.
OKU Ibiza, a newer addition to the island, is a nature-inspired hotel that's already become popular for its locally sourced cuisine and luxurious spa that offers everything from daily yoga and pilates classes to CBD treatments.
Agritourism and wellness go hand in hand at Atzaró Agroturismo Hotel, a rural hotel sprawling with manicured gardens, courtyards and farm-to-fork restaurants. Their three-hectare organic vegetable garden is as vibrant as it gets. Fruits and vegetables of every color grow amid olive and cypress tree-lined walkways, and a path flanked by orange trees connects the garden and hotel restaurant.
The Algarve, Portugal
It's hard not to fall for Portugal's dramatic Atlantic coastline, with its sandy beaches and retreats specializing in everything from detoxes and anti-aging spa treatments to yoga and stress management. Surfers flock to the Algarve for its ideal surf conditions, practically empty beaches and coastal hiking trails.
For the ultimate indulgence, book yourself into the EPIC SANA, a five-star beachfront resort in Albufeira, along the golden-sand beach of Praia da Falésia. The spa facilities are pretty extensive; we're talking sauna, Turkish bath, indoor heated swimming pool and even Vichy shower treatment rooms. Treatments are designed to create a mind, body and spirit connection and foster emotional balance.
For a change of scenery and cooler weather, head from the mountains of the Algarve to the quiet spa village of Monchique. The water from Monchique is alkaline and rich in fluoride, sodium and bicarbonate, all of which contribute to keeping the body in tip-top shape. These mineral-rich waters have the potential to sustain optimal hydration, reduce or prevent intestinal inflammation, relieve heartburn and benefit bone and dental health.
Agadir, Morocco
Nestled in the foothills of the Anti-Atlas Mountains and filled with European-style cafes and modern buildings, Agadir presents a fresher face of Morocco. An average of 340 days of sunshine paired with its Atlantic Ocean surf makes Agadir a prime destination for surfing as well as outdoor yoga and meditation.
For an authentic Moroccan experience, visit one of Agadir's traditional hammams—public steam rooms where people come together to relax, bathe and exfoliate using soaps, salts and oils. Moroccan hammams draw inspiration from the public bathhouses of the Romans, and today, it's a part of Arabic tradition. The first hammams in Morocco were located near mosques to encourage cleansing and purification before prayer.
Steam rooms such as hammams help increase circulation, open pores, condensate away dead skin and rid the body of toxins. There's no shortage of hammam experiences in Agadir, but Argan Palace and Argan Phyto House are two of the best.
4 winter wellness travel locations
Plan ahead for wellness travel in the cold-weather season.
Nekoosa, Wisconsin
If you've never heard of Nekoosa before, you're not alone. The Wisconsin city is pretty secluded, yet sometimes it's in the silence that we find our center. Built on 12,000 acres of land and surrounded by sand dunes, Sand Valley is the ultimate wellness winter wonderland. It's a choose-your-own-adventure type of place—think hiking, yoga, fat-tire biking, stargazing, ice fishing and more.
While many activities will have you working up a sweat, others test your tolerance for discomfort. As part of Sand Valley's Wim Hof Residency, participants submerge themselves in freezing cold water. At first a shock to the system, cold therapy has many potential benefits including improved sleep, mood and microvascular adaptations.
Dominica, the Caribbean
Dominica has certainly earned its nickname, the "nature island."
Adventure travelers have their pick of outdoor activities, from canyoning the Titou Gorge and hiking the longest trail in the Caribbean to snorkeling in the bubbly waters of Champagne Reef and swimming in geothermal springs amid lush flora.
You can accomplish a lot of wellness in Dominica on a shoestring budget, but there's plenty of luxury, too. Secret Bay offers travelers the ultimate luxury accommodations. Perched on a coastal cliffside and surrounded by dramatic rainforest foliage, Secret Bay offers six types of villas featuring sustainably sourced wood and ocean views that create the sense of being at one with the landscape. Attend a yoga class or indulge in a bespoke treatment at the treehouse-style spa.
Whitby, Canada
About an hour outside Toronto lies Ontario's very own spa village. Opened in October 2022, the Thermëa spa village is the ultimate healing haven, with saunas, steam rooms, a saltwater flotation pool and a thermal cycle experience. A stay at Thermëa can start to feel like a trip across the globe, with Himalayan salt scrub treatments and a Rhassoul clay treatment rooted in Moroccan tradition. For centuries, the Moroccans used Rhassoul—a type of clay only found in the Atlas Mountains of Morocco—to cleanse their hair and skin.
San Marcos la Laguna, Guatemala
Known as Lake Atitlán's "spiritual mecca" or "hippie village," San Marcos la Laguna can be as high-end or as hippie as you like. Considered by many to be an "energy vortex" of sorts, San Marcos draws travelers seeking a big-city break to wander its winding alleys and wade in its tranquil waters.
The Yoga Forest retreat center is rooted in Mayan tradition and enveloped on all sides by mountains, forest and Lake Atitlán, allowing guests to explore both their physical surroundings and their own inner worlds. It offers a wide range of healing arts: aerial yoga, meditation, Tantra, creative writing, Reiki and spiritual ceremonies led by a Mayan shaman or shamaness. Destress during their Temazcal Ceremony, a traditional Mayan steam bath, or learn about the transformative element of fire at their Mayan Fire Ceremony.
The Eagle's Nest is another go-to wellness travel spot with panoramic views of the lake. It began as an acroyoga space and has since grown into a creative community that hosts weekly ecstatic dances (think Burning Man but on a smaller, tamer scale) and monthly events. The crowd here varies widely, and on any given day, you're likely to meet a mix of travelers, artists and digital nomads. Guests and nonguests can sign up for daily and weekly programming including yoga, sound healing sessions and sauna experiences.
This article originally appeared in the May/June 2023 issue of SUCCESS magazine. Photo courtesy of Miraval Resort & Spa.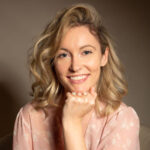 Megan Eileen McDonough is an award-winning writer and social photojournalist who splits her time between Barcelona and Virginia. In addition to running top-ranked blog, Bohemian Trails, McDonough's writing has appeared in publications such as Lonely Planet, US Airways, Teen Vogue, Fodor's, and Bustle among others. She's been featured in Travel + Leisure, AFAR, Refinery29, and Forbes as a leader in the travel space. McDonough also works as a brand strategist, helping to define content direction, curation, and compelling storytelling. Follow her on Instagram @itsmeganeileen.