Jacques-Yves Cousteau opened the door to the marvels of the world's oceans. As co-inventor of the Aqua-Lung and pioneer of underwater photography and filmmaking, Cousteau (in his trademark red cap) sailed the world for nearly 60 years. He produced more than 115 films and wrote 50 books about the sea, bringing ocean life into people's living rooms and introducing the world to environmental awareness.
"My favorite ocean is the one I haven't been to yet."
Cousteau was born June 11, 1910, in the village of Saint-André-de-Cubzac, near Bordeaux, France. His father was a lawyer, and the family lived a jet-set lifestyle in Paris and aboard yachts in the Mediterranean, providing Cousteau with an early glimpse of life at sea. When World War I began, though, the Cousteaus found themselves struggling to make ends meet.
Cousteau, although curious and earnest, was frail and had difficulty with school and making friends. He was, however, intensely interested in nature and filmmaking, and he had a knack for mechanics, inventing and model-making.
During Cousteau's childhood, the family moved from Europe to the United States and back again. At a summer camp in Vermont when he was 10, Cousteau practiced diving in a lake, struggling at first to hold his breath underwater. In his teenage years, he put his innovative mind to work trying to create an artificial method of breathing underwater using pipes and small pumps on the side of the school swimming pool.
"The reason I love the sea I cannot explain. I only know that sometimes we are lucky enough to know that our lives have been changed, to discard the old, embrace the new, and turn headlong down an immutable course."
Although he wanted to be a filmmaker, Cousteau knew he would struggle to make a living, so he entered the naval academy to become a pilot in the French navy. Near the end of his training, he crashed his father's car and spent months in the hospital recovering from the accident, which had paralyzed his right arm and broken 12 bones. His career as a military pilot was over before it had begun. He was devastated, but the event had spared him from almost certain death. Three years later when World War II began, all but one of the pilots from his class were killed within the first several weeks.
Despite extensive physical therapy for his injuries, Cousteau was in constant pain, and his body had weakened considerably. A friend suggested swimming in the ocean as a way to rebuild his strength. With the naked eye, Cousteau had experienced very little visibility underwater. But experimenting with airtight goggles, he dived under the surface and was captivated by a breathtaking vision of plants and animals beneath the surface and by his ability to move among them so easily, like a fish himself. This experience served as inspiration for years of exploration.
"When testing devices in which one's life is at stake… accidents induce zeal for improvement."
In 1937 Cousteau married Simone Melchior, with whom he had two sons, Jean-Michel and Philippe (who passed away in 1979).
Cousteau began to combine his early interests of filmmaking and underwater breathing techniques, creating his first 30-second underwater film using a camera inside a glass jar. His determination and unquenchable curiosity drove him to spend the next several years in problem-solving mode, experimenting housings and various underwater breathing techniques.
During World War II, Cousteau served in the French navy off the coasts of China, Japan and the Soviet Union, and had been a spy on behalf of the French Resistance. At the same time, he and his friend, engineer Emile Gagnan, were developing a new device called the Aqua-Lung, often risking their lives to test equipment. Eventually, their device, which came to be known as a self-contained underwater breathing apparatus, or scuba, enabled them to free dive to previously unknown depths.
Cousteau convinced French navy officials to establish Undersea Research Group and to open a marine research center at Toulon. Heading up the naval research group, Cousteau and his fellow sailors cleared German mines from French ports and salvaged an old Roman wreck, leading the way undersea archeology.
"The impossible missions are the only ones which succeed."
Cousteau met with constant rejection and even ridicule. But his passion for undersea exploration, strong faith in himself and renowned charm enabled him, in 1949, to finally acquire an investor for his scientific and filmmaking endeavors. He purchased the Calypso, a former mine sweeper, and outfitted it as an oceanographic vessel. The ship's motto was "Il faut aller voir," or "We must go and see for ourselves."
Cousteau set sail in 1951 to explore an undersea world still just as foreign to humans as outer space. On board, he and his crew developed increasingly advanced cameras and submersible vessels capable of operating at staggering depths. The more Cousteau discovered and filmed, the more he appreciated the beauty and diversity of the ocean. But he saw the effects of pollution stifling the delicate balance of life and was an early advocate of environmental awareness.
In 1953 he published his first book, The Silent World. His trailblazing film of the same name won the Palme d'Or at the Cannes Film Festival in 1956 and an Academy Award in 1957. Filmed in color for the first time, the underwater world came to life with dolphins, sharks, whales, sea turtles, coral reefs and anemones. His later films would win two more Academy Awards.
The television series The Undersea World of Jacques Cousteau, which began in 1968, furthered the public's fascination with the ocean and with Cousteau himself. Never before had people been able to experience the undersea world like this, and the energetic Cousteau became known as the leading explorer of his time. His documentaries for television earned 40 Emmy nominations, 10 Emmys and several other awards.
He created the Cousteau Society in 1974, dedicated to marine conservation and research, and eight years later, its French counterpart, Equipe Cousteau. And beginning in 1957, Cousteau added director of the Oceanographic Museum of Monaco to his list of accomplishments. He served in this role until 1988, remaining active and enthusiastic after exploring the world's oceans for nearly 50 years.
"People protect what they love."
Cousteau received the Legion d'Honneur for his work in the French Resistance, and the Presidential Medal of Freedom from Ronald Reagan in honor of his epic career as steward of the planet's oceans. Cousteau became increasingly vocal about environmental issues as he aged, and was concerned with the diminishing life of the world's oceans, an invaluable resource. "I'm not an ecologist for the animals," he often said. "I'm an ecologist for people."
After Cousteau's first wife died, he married Francine Triplet, with whom he had two children, Diane and Pierre-Yves.
Cousteau passed away June 25, 1997, at the age of 87. Near his tomb in Saint-André-de-Cubzac, a sculpture of a dolphin holding a red knit cap in its beak pays tribute to the man whose love for the oceans continues to inspire: "I understood that water and life were inexorably bound and that I must spend my own career fighting to protect that life and to safeguard future generations."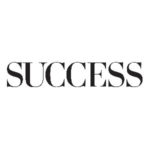 SUCCESS is your guide for personal and professional development through inspiration, motivation and training.