Top of Mind: Who's Your Role Model?
I have several role models, but none more important than my mom. She is an immigrant who has overcome major challenges in life and has never quit. Her energy, discipline and raw enthusiasm are contagious and inspiring. My mom is also hilarious, super-smart, an incredible parent and the least selfish person I have ever met. And she'll never shy away from telling me the truth, even if it's a bit brutal.
—Jo Ling Kent, Fox Business Network reporter
My father. As a fellow entrepreneur, as an adviser and as a father figure, he has influenced many of my life choices by his example and reminded me of the importance of staying true to deeply held values along the way.
—Bryan Leach, CEO of Ibotta
The biggest role model is my team. BloomNation was an idea I had only a couple of years ago, and it's my baby. But when I see how passionate and driven the team has become, it inspires me to push even harder. They are taking my idea and making it a reality, which pushes me to be the best leader, mentor, friend and CEO for them. I don't want to let them down because they have never let me down. It's the best kind of motivation there is.
—Farbod Shoraka, co-founder and CEO of BloomNation.com
My biggest inspirational role model is Napoleon Hill [author of Think and Grow Rich]. He jump-started me on the path to applying many of his success principles to my personal life and business, and most important, to discovering the power of my own thoughts and intentions.
—Esther Villars, co-founder and CTO of Flat Pyramid
My most recent role model is my spiritual mentor Osho, who has taught me that awareness is the only discipline. This mantra has had a profound impact on how I view all aspects of my life, both personal and professional. In fact, I've recently learned that incorporating this viewpoint into my professional life has been critical to helping achieve (or at least move closer to!) a well-rounded life overall.
—Pablo Vargas, co-founder and CEO of Sr. Pago
This may sound abstract, but my biggest role model is the USA. Each time I need inspiration, I remember that the United States is a nation where anyone can become anything he or she desires. There isn't a mandate to do things a certain way. If you want to start any business or become something you've always dreamed of, this nation's history has proved that it is possible.
—Jennifer Vickery, president and CEO of National Strategies Public Relations
Johnny Cash was a great role model; he was an icon. He also said it was a good idea to buy expensive things when you could afford them, so that you would be able to sell them when you couldn't.
—John Schneider, actor, founder of John Schneider Studios
My maternal grandmother, whom my family called GooGoo, had a huge impact on me. She grew up poor but surrounded by affluence in my hometown of Larchmont, N.Y. She taught me that money doesn't determine a person's value as a human being and that I am as good as anyone else. Ultimately she built my courage and confidence. I don't think it's a coincidence that I run a courage-building company today. GooGoo is in my DNA!
—Bill Treasurer, president and CEO of Giant Leap Consulting
My biggest role model was my father. He started as a truck driver but he built a company that became one of McDonald's largest hamburger and chicken suppliers worldwide. He was also the most humble man I have ever known, always gave back to the community and never forgot where he came from. My company runs on the foundation of giving and doing the best we can for others. I personally try to honor his legacy by being the best person I can be, and hopefully in my own way make the world I touch a better place.
—Shelly Fisher, CEO of Hope Paige Designs
Find out what 6 people inspire life coach Tony Robbins.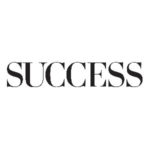 SUCCESS is your guide for personal and professional development through inspiration, motivation and training.