Top of Mind: What Inspires Today's Leaders
One big thing I'm working on this year is changing the way I go to work every day. Not like taking a different subway, but just generally focusing less on the light at the end of the tunnel and more on the actual tunnel. Meaning, it's really easy when you're running a business to get caught up in next steps and meeting goals and an end result. But I've realized recently that I'm spending a big chunk of my life building this company—I love what I do and the people I work with, and I should spend each day enjoying the experience and celebrating the little milestones rather than just looking ahead to what's next.
—Ben Lerer, CEO, Thrillist
During meetings and brainstorms, my team and I light a fire and get naked, digitally naked, that is! We have found that abandoning our phones and putting fire (candles) in the center of the room helps us to focus on the topic at hand, instead of getting distracted by emails or texts. At first it was hard to let go of our digital devices, but now our meetings end up being much more productive without them.
—Amy Jo Martin, founder & CEO of Digital Royalty
I've been reading the old handwritten letters my father wrote to me when I first moved to Hollywood. He was a Baltimore city cop at the time and had no idea how someone could make it in show business. But he knew how he survived the mean streets of Baltimore. "I tell you these stories to encourage you with your fears," he wrote. The letters definitely had a huge impact on me achieving my early successes in Hollywood. And I'm starting to see the successes build up again from rereading them.
—Johnathan Schaech, actor, Showtime's Ray Donovan
I'm reading Abundance by Peter Diamandis. This optimistic book shows how exponential technologies will positively affect the world, to better the lives of billions of people. There are some incredible examples for those of you who want to learn more about 3-D printing, nanotechnologies and synthetic biology.
—Ankur Jain, founder of Kairos Society
I'm stoked that entrepreneurs and business leaders are taking pride and standing for something other than the bottom line! Creating value for others and taking care of people is the surest way to long-term success. Interest in the 2013 Conscious Capitalism CEO Summit in Austin, Texas, in October is booming, as people are looking for information, inspiration and peer communities to support them in making "better business" a reality. Being human at work is catching on!
—Jeff Klein, CEO of Working for Good, author of It's Just Good Business
Spring is a natural time to think about getting back in shape and becoming more balanced, physically and mentally. After producing the custom bike for SoulCycle's cult-phenomenon spinning studios as well as a new reinvented bottle for Organic Avenue and a host of projects for Equinox, a fitness company, I've seen people's lives transformed by wellness initiatives. And when you bring well-being into your corporate culture, you invigorate morale, improve productivity and cut down on healthcare costs.
—Eric Villency, principal and CEO of the Villency Design Group
I log in to Trendcentral.com's new app Trend Spot daily, which features lifestyle trends-to-be before everyone else picks up on them. At Sprinkles, I am always looking to innovate and stay relevant. Whether launching a Cupcake ATM or new ice cream concept, I believe this continuous innovation is a key to success. Trend Spot sparks my creative juices and is a great source of inspiration, reminding me that there are new and exciting things happening all around us.
—Candace Nelson, founder of Sprinkles Cupcakes
I'm currently reading Contagious: Why Things Catch On by Jonah Berger. I saw him speak on a panel at the Wharton School of Business and was really inspired by his knowledge and perspectives on social epidemics. The concept of virality completely applies to Birchbox and our organic growth—his ideas put into perspective how and why Birchbox got so much word-of-mouth so early on!
—Katia Beauchamp, co-founder and co-CEO, Birchbox
I've been reading Behind the Beautiful Forevers , a beautifully written account of the poverty that plagues a settlement sitting in the shadows of the Mumbai International Airport. This book is top of mind for me because of the stark difference between the community that Katherine Boo describes and the community we're in here, in Silicon Valley.
—Julia Hartz, co-founder and president, Eventbrite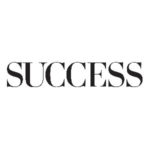 SUCCESS is your guide for personal and professional development through inspiration, motivation and training.