Top of Mind: This Is How to Live Better
I've found the perfect schedule for me: I wake up in the morning and accomplish work from home that requires creativity. I then walk to the gym to work out, shower and head to my office. Evenings are generally for friends, family, other creative projects or relaxation. Most important, I sleep better because of the regular exercise and staying off technology at least two hours before bed.
—Heather McGough, co-founder of Lean Startup Co.
I'm constantly reading now. Reading is simply a great way to keep your mind sharp and get ahead of the game. I schedule time blocks for high-priority tasks throughout the day. Allocating a specific time to tackle something and holding myself accountable has increased my productivity and time management skills drastically. Lastly, learning how to play chess was huge for me. The mental strength you gain from playing chess transcends to other aspects of life. After all, your brain has to exercise, too.
—Eghosa Aihie, president and co-founder of Alumnify
I used to think 10 a.m. was early. Now I am up every day at 7. I went from night owl to early bird. I focused on creating the best brand possible, almost literally on a shoestring and a dream. I went from touring the world to being more homebound.
—Theo Kogan, founder of Armour Beauty
I started valuing sleep. There was a time when I could run on three or four hours a night and the adrenaline of being under the gun, but that wears off fast. Now it's rare I see the wee hours of the morning, and everything got better.
—Melissa Anelli, co-owner of Mischief Management
I've slowed down. I make sure to spend some time in nature every day and go on as many hikes as I can. I find Mother Nature is good for the soul and the mind—most of my inspirations for my writing come to me when I'm working in my garden. Gardening, for me, is a moving meditation, which allows my brain to quiet down. That's when the ideas come.
—Chris Young, author
I always find ways to carve out time to clear my head and have some time to myself. That usually happens through running or spinning classes where I can unplug for an hour, de-stress and walk out in a better headspace and mindset to keep all the plates spinning. I encourage everyone to find a place where you can get in that mode of being offline and giving your mind a chance to reboot. It makes the world of difference. And when all else fails: wine!
—Catherine Merritt, CEO and co-founder of MUMZY
Are you taking care of yourself? Check out 13 ways to work some healthy "me time" into your schedule every day.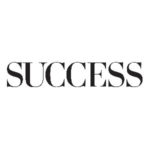 SUCCESS is your guide for personal and professional development through inspiration, motivation and training.