Top of Mind: Success Solutions from Real Leaders
As a public speaker, I'm on the road a lot. Exploring new cities is always a perk, but trying to stay healthy and active while traveling is always a challenge. I discovered AthleticMindedTraveler.com, which uncovers the best places to eat healthy and work out while traveling. You can search city by city and see its recommendations of the hotels with the best gyms, areas with running routes and healthy places to eat. For anyone who travels on the job, this is a great resource to maintain a healthy lifestyle on the road!
—Jessica Ekstrom, founder and CEO, Headbands of Hope
As a startup CEO meeting with many large businesses across multiple industries, I am struck by the fear that ultimately drives larger, mature businesses, and I contrast that with the fearlessness that is needed to create a new one. I'd love to be able to pinpoint that singular moment in a business's lifecycle when the culture changes from innovation to risk mitigation. That way I could always be on the front side of that curve.
—Marti Beller, co-founder and CEO, PlanG
Top of mind for me right now is where I'm going for dinner this weekend. Seriously, I never eat at the same restaurant twice, no matter how good the food is. Why? Because I believe that enjoying diverse experiences helps me stay fresh and innovative in all aspects of my life. There are so many opportunities in life to soak up something new and exciting, and I want to take full advantage of each and every one. To me, reliving an experience, even when dining out, means that I may be missing out on something that I might never get the chance to explore again.
—Amit Pandhi, CEO, Arctic Zero
Being a global jet-setter is a tough gig. Don't get me wrong—I wouldn't switch jobs with anyone, but traveling all the time takes you away from family and friends and the places that you call home. I try to continually make an effort to stay as grounded at home as possible and remember that real life happens at home. I have to be conscious of that and make an even bigger effort than normal to maintain and push forward relationships with the people in my life. I will do this.
—Lee Abbamonte, writer, travel expert, youngest American to visit every country
Our company is fortunate to have amazing distribution channels, working with leading retailers across the globe. Some of the hardest things to view in one place are our sales and reorders from more than 1,000-plus partners. Our solution is Pipedrive.com, an amazing online CRM [customer relationship management] tool that my sales team enjoys using almost as much as I like reviewing. The user interface and back-end capabilities are super-intuitive and easy to use.
—Adam Schoenberg, co-CEO and founder, hook+ALBERT
Reflecting on the amazing impact that Gino Wickman's book Traction has had on our corporate organization and my personal work-life balance, I was determined to bring Wickman's Entrepreneurial Operating System (EOS) to our franchisees. We invited Gino to speak at our annual conference, and we've set up training sessions and produced videos. We want our franchisees to work ON the business, not IN the business, and the EOS outlines the steps to help business owners get clear focus on the right people and practices that are essential to the growth and profitability of their business. I'm confident that this will help us speak a common leadership language and help our brand reach its full potential.
—Shelly Sun, co-founder and CEO, BrightStar Care
To boost productivity, I reserve "remnant" blocks of time to focus on my startup's most important challenges. These are small windows in the day that are unscheduled—e.g., the 30 minutes after my last meeting before I pick up my daughter, when I turn off the phone, close down email and crank away on one key issue such as drafting key messaging for a new product or an investor pitch. Removing all distractions helps me focus, and the time limit becomes a "forcing function" that ensures I get it done. As a result, these remnant blocks, while making up maybe 10 percent of my day, account for a huge portion of my startup's forward momentum.
—Nathan Beckord, co-founder and CEO, Foundersuite
I'm realizing the life I have now is a lot more free than the one I had as an anarchist teenager. As a teen, it was my full intention to smash capitalism. I just wanted to be free and carefree. I never saw myself as a CEO of a corporation. But working hard and paying your taxes actually feels good.
—Sophia Amoruso, founder and CEO, Nasty Gal; author of #GIRLBOSS

I'm honored and delighted to have received the first Muriel Siebert Banking and Investment Leadership award from the National Minority Business Council. Only leaders who actualize their own potential can teach others to do the same. Muriel Siebert, the first woman ever to own a seat on the New York Stock Exchange, was such a leader. The companies she owned made billions of dollars in deals happen during her lifetime, and she paved the way for countless other women.
—Randy Joy Epstein, CEO, Randy Joy & Co., CPA; founder and co-organizer, TEDx Times Square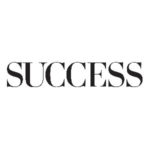 SUCCESS is your guide for personal and professional development through inspiration, motivation and training.