Top of Mind: Pieces of Advice for Finding Success
Changing how we eat can be extraordinarily difficult—I know from personal experience! My latest helpful discovery is BJ Fogg's "Tiny Habits" [SUCCESS/November 2013], which provides a great framework. And it's working. For example, I tend to eat too fast, so I'm building a habit of taking a deep breath when I sit down to eat. Eventually I'll grow that tiny habit into eating more mindfully. It's a powerful approach that I can't wait to share with our customers.
—Lucinda Duncalfe, founder and CEO, Real Food Works
I just finished reading Malcolm Gladwell's new book, David and Goliath: Underdogs, Misfits, and the Art of Battling Giants. His premise is that perceived disadvantages can actually be advantages if used in the right way (and vice versa). It's a concept that should resonate with all startup leaders whose organizations are constrained by size, resources and capital. The book is a great reminder that all those constraints actually force creativity and allow startups to be much more nimble than entrenched incumbents.
—Dave Gilboa, co-founder Warby Parker
As CEO, it's my job to be two steps ahead. The rest of the team is worrying about the present, but I need to have one foot firmly in the future. I like to imagine where we want to be down the road and then make all current decisions based on what will get us there. Sometimes that may be counterintuitive to short-term goals, but if you keep future goals as your north star, then that is where you need to steer the ship. Getting buy-in from others can be hard in that case, so you have to build trust.
—Paul Canetti, founder and CEO, MAZ
I just finished Brad Stone's book about Amazon.com, The Everything Store
, and was left feeling that most people have a warped idea of what success is. Rather than considering which company is the biggest, fastest or meanest, people need to remember it is the journey that is rewarding, not the end result.
—Jeff Curran, founder, Curran Online
When Survivor
host Jeff Probst asked me if I was going to be a lawyer, knowing that I was about to graduate from law school, I decided to give an honest answer, that I wanted to try writing. The producer of The Millers
reached out to Probst and offered me the job because he thought I was funny. It was so serendipitous. Most law students are very risk-averse, so throwing caution to the wind is just too unreal.
—John Cochran, winner Survivor: Caramoan–Fans vs. Favorites
; writer, CBS' The Millers
I recently interviewed self-made billionaire Sara Blakely. This inspiring woman went door-to-door selling fax machines for seven years after failing her LSATs and having limited success as a stand-up comedian. She said if it weren't for her dad teaching her the importance of failure, she would have never had the will to bring Spanx from vision into reality. At the end of the day, it's the people who put their egos aside and are driven by sheer passion for what they do (not the end result) that truly inspire us.
—Maneet Ahuja, author of The Alpha Masters
I'm mindful of the importance of staying curious. Our customers want Graze to introduce them to new ingredients and flavor combinations, and we want our team to reflect their sense of adventure. Graze's founders were told that sending snacks through the mail could never work, but followed their instincts, experimented and developed the successful product we have today. As we grow, our philosophy remains that if you can make a compelling case for your idea, we will test it, and this catalyzes curiosity across the company.
—Anthony Fletcher, CEO, Graze
If we want to really change the world for the better, capitalists and environmentalists are going to need to cooperate to get it done. The environmentalists have good ideas and good intentions, but often lack the resources necessary to effect large-scale change. Capitalists have their hands on the big levers that can make huge environmental differences like greening supply chains, using cleaner fuels, and inventing new technologies to solve environmental problems.
—Mark Bowles, founder, ecoATM
When I'm working, I like to get up very early, and I go for a run, because I find that with some fresh air and some exercise and some oxygen in my brain, I think very clearly and very cleanly about the oncoming work of the day. Sometimes I like to be alone, to see the foxes and the morning birds [while in the English countryside]. It's all very surreal and quiet. I can think about scenes and the options to play them.
—Tom Hiddleston, actor
Top of Mind is a recurring feature that appears in the Start Up section of SUCCESS magazine. Subscribe today for print and digital access.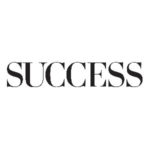 SUCCESS is your guide for personal and professional development through inspiration, motivation and training.