Top of Mind: On Selling Yourself
Confidence is everything when it comes to selling yourself. Knowing who you are and how you can add value is invaluable in any workplace. And it doesn't mean you are everything or know everything. Confidently admitting you don't have the answer, while outlining a plan to obtain it, demonstrates a true level of belief in yourself and your abilities. Seize the opportunity to showcase your problem-solving skills. And finally, score again on following up!
—Mally Steves Chakola, founder and creator, M. Steves
Share your hobbies and interests to help you stand out. Do you scuba dive? Sculpt? Volunteer at a local farm? These extracurriculars will help others relate to and remember you. Commit to these interests—and your business—with wholehearted passion because to fully commit yourself to something is daring; it's something that will never fail to impress others.
—Petros Georgopoulos, CEO and co-founder, Swapdom
I was at the Water Festival in Alabama trying to sign the music publishing rights to a new band called 3 Doors Down. But instead of meeting them as planned, I ended up with the lead singer's father. I chipped away at his resistance—which is all that selling is—by asking questions about his life, his talented son, how [international hit] "Kryptonite" got created, and whatever else. He told his son I was "good people." The deal closed a week later.
—Tom Sturges, president, Tom Sturges Music; author of Every Idea Is a Good Idea
I find that by first genuinely asking those around me what they are working on and looking for, I can best position the ways I may be able to assist them and increase interest in me. Recently, at an airport waiting area, a simple hello and friendly conversation resulted in a new business opportunity because I asked questions and was then prepared to share a sincere and confident offering.
—Michael Vigeant, president and CEO, GreatBlue Research
Two key skills I learned in selling myself and my services have paid off immensely. First, make eye contact to show the person with whom you're speaking that he or she is important and being listened to. It also sends the subconscious message that you are on your A game. Secondly, maintain a steady pitch when you speak; do not end a sentence with a question, which reflects weakness in your presentation and position. Keep your tone firm from beginning to end, and you will come across as both trustworthy and solid, which will convert to dollars.
—Frances Kweller, CEO, Kweller Prep
As a restaurateur, I'm a "sales lead" many times each week. I was also a salesman myself for 18 years. One fundamental I learned: There would be no interview without trust. That trust has to be established in the first two minutes. How? I coached myself before entering the appointment. "Brian, you are here for one reason: The Prospect. Think about them. Ask about them. Learn about their needs, and how you can fulfill one with your product. Care about what they care about. Do it honestly and sincerely. You can help them succeed. Do it!" People can sense your sincerity, and that breeds trust.
—Brian Olson, founder and CEO, Café Intermezzo in Atlanta
Other people assign us value and opportunities based on how they see us. Their perception is our reality. Before you can sell yourself, you must take inventory of what you're working with. What is your unique value? How do you want to be perceived? What makes you credible? Who are you selling to? These questions drive the personal branding process, and create the platform off which you can consistently and authentically sell your value to people who might need you.
—Lida Citroën, author of Your Next Mission: A Personal Branding Guide for the Military-to-Civilian Transition and principal of LIDA360
The best way to sell yourself is to not sell at all. Deliver solid results to your board and investors. And be humbled when you don't and take the blame courageously. Deliver great learning and advancement opportunities to your employees. Be loving and caring to those who work with you and for you, and when it is time to walk through walls, they will stand up and want to run through them. Sell by example, and you will win every time.
—Kevin Surace, CEO, appvance.com
Everyone has a personal brand. Be purposeful in how you sell it. I am passionate about creating and developing businesses, and my success comes from being focused, persistent and authentic. I build trust for a living, so I sell myself best by doing what I love and following my principles. I am not driven by validation, but when I was on Shark Tank, it didn't hurt to hear Kevin O'Leary say, "You know what you're talking about."
—Steven Nakisher, Ph.D., co-founder of Talbott Teas, acquired by Jamba Juice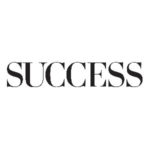 SUCCESS is your guide for personal and professional development through inspiration, motivation and training.