Top of Mind: Leaders' Business, and Life, Insights
With the consumer crisis we face with more than $11 trillion in individual debt in the U.S., I was reminded of one of my favorite books, The Millionaire Next Door
, because it's based on the simple premise that everyone can learn how to manage his money better and achieve financial success. The authors give a tangible methodology, and I was very impressed by their outlook on money.
—Bill Rancic, entrepreneur, best-selling author and television personality
Wanelo is adding a stadium's worth of new users daily, so I'm thinking about the balance between growing the business and my team. While many companies look for talent with the best pedigrees, I don't care about degrees or experience; I look for people's potential to become the strongest contributors. I believe in building the ultimate meritocracy.
—Deena Varshavskaya, founder and CEO, Wanelo
On a recent trip to Egypt, I attended Startup Weekend Giza. It was striking to see how differently Egyptians think of the role of technology. Most were building solutions to significant everyday challenges. The gaps in services that most expect the government to provide—public transportation, neighborhood safety, communication tools—are being reimagined by the enterprising youth of Egypt. Technology there is a necessity, not a luxury item.
—David Ha, co-founder, Disqus
We've spent the last four months recruiting a world-class executive team. I'm devoting a lot of time with them navigating issues like how do you balance valuable experience with the optimism and audacity of inexperience, and how do you balance process and diligence with the need to move quickly and the desire to rewrite the rules of the game.
—Rich Aberman, co-founder, WePay
I'm excited to be finishing my forthcoming book, Men, Women & Money
. It goes into detail about all those tough topics like how to deal with finances when you get married, what to do about gold diggers and how to make sure that you are saving enough for your children's education. I get into the topics that nobody else will—that's why they call me Mr. Wonderful! You'll see my book on shelves everywhere Oct. 1.
—Kevin O'Leary, ABC's Shark Tank
People are the key to everything, and always keeping that top of mind has been the biggest single factor in our company's success. We believe in the power of people working together. I wouldn't be where I am without my partners and all the people we work with every day, our staff, our consultants, our clients. And our projects wouldn't mean anything if they weren't also focused on the people who will end up using and populating them.
—Michael Ellis, managing partner, 5+design
I recently read two books that I really liked. The first is called The One World Schoolhouse
by Salman Khan, the founder of Khan Academy, which is a not-for-profit with the goal of providing a free world-class education for anyone anywhere. I believe education is undergoing rapid change, and I wanted to better understand how this visionary sees the future of education. I also read Start-up Nation
, which describes the impact that Israeli startups have had on global innovation. Given Israel's small population, it's very impressive that this nation has had so many IPOs and successful technology companies.
—Jeff Fluhr, CEO and co-founder, Spreecast
Top of mind for me is a book I'm writing about entrepreneurship. In conjunction with the book, I am an executive producer and creator on a television show focusing on entrepreneurship. I'm of the belief that you can't teach entrepreneurship, but everyone should be exposed and given the opportunity to explore it.
—Amos Winbush III, CEO and founder, CyberSynchs
Entrepreneurs are unlike so many business executives in that they demonstrate a fraternal bond that is so extremely valuable. I focus on ensuring our company embraces this "community" by actively reciprocating services, helping or advising fellow small businesses. You just never know where that valuable nugget of wisdom and opportunity will come from next.
—James Giglio, CEO and founder, MVP Interactive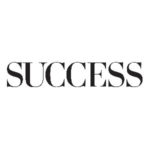 SUCCESS is your guide for personal and professional development through inspiration, motivation and training.