Top of Mind: How Do You Find Motivation When You're Not Feeling It?
I ask myself, What pain do I associate with working to accomplish this goal? What pleasure will I feel once I accomplish it? I write down the answers to each question and push myself to really feel my feelings. Then I break the goal apart into smaller pieces (if possible) and figure out how I can be held accountable to accomplishing it. My chances of success skyrocket when I share my goals with others.
—Avery Fisher, president of Remedify
Related: Do These 7 Things to Get (and Stay) Motivated
I like to remember whom I'm tackling the project for. Usually that's our community or our customers—or sometimes our team. Even if the project is unmotivating, doing it for someone else (rather than just because I have to) usually helps me get motivated!
—Kathryn Minshew, co-founder and CEO of The Muse
I put an exciting, difficult spin on the job. I'm incredibly fascinated by solving impossible problems. I challenge myself to come up with solutions that have never been done before and will ignite an unstoppable spark in me. I also believe that, in times when you hit a mental wall, it's crucial to turn to those whose success you value and respect. They can reignite your thinking and passion in seconds.
—Katya Akudovich, CEO of LiveJournal
My days in competitive sports trained me well to always focus on the end goal and overcome roadblocks. For me, every roadblock is an opportunity to either innovate or re-engineer, since the overall goal is to help customers. I also learned early on to fill up your moments with excitement for success at every milestone. I love celebrating every accomplishment that comes our way.
—Pavana Jain, co-founder and CEO of SHIFTMobility
Sometimes it's as easy as taking a walk for me to be able to recharge. At other times, I give myself a reward for completing a project. Both of these options can require that I drink a lot of strong coffee.
—Ben Ford, author, chef and founder of Ford's Filling Station
I have a mantra: One foot in front of the other. I just keep going. It's the Newtonian principle of bodies in motion—if you keep going, it will all get done. I also learned from a close friend to touch things only once, so if it comes across your desk, just do it. Get it over with. This is the only way I can operate—like air traffic control, you either land the plane, or everything gets stacked up.
—Christiane Lemieux, executive creative director of Wayfair
Related: 3 Ways to Stay Motivated and Keep Moving Forward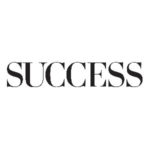 SUCCESS is your guide for personal and professional development through inspiration, motivation and training.