Top of Mind: From To-Do Lists to Storytelling to Mentors
Lately I've been thinking about the power of asking for help. I recently reached out to two trusted professionals for advice. After our conversations, both introduced me to others in their network, and then those experts did the same. Four weeks later, I've met 19 amazing new people, and they have all been happy to help because I'm "a friend of a friend." The guidance from these generous mentors has been invaluable and has made my company better. Asking for help isn't a sign of weakness; it's a sign of aspiring to be even stronger.
—Brittany Hodak, co-founder, 'ZinePak
Once a week, I practice "random surprise and delight." I walk into a Starbucks, Dunkin' Donuts or similar establishment, go to the front of the line, and announce I'm paying for everyone behind me in the line. People react with amazement and disbelief for a free cup of coffee. Imagine how they'd react if the company they were purchasing from or the wait staff from whom they were ordering went out of their way to do something nice for them? That's where the gold is, where the magic happens. Not only can it be good for the universe, but being nice can be incredibly profitable.
—Peter Shankman, founder, Help A Reporter Out (HARO)
I'm excited about the way mobile is transforming e-commerce. Content consumption has already been revolutionized by mobile, and e-commerce will go through a similar transformation. There will be big winners and losers; I can't wait to see how it plays out.
—Russell D'Souza, founder, SeatGeek
The accelerated impact of new and relatively new brands is top of mind for me these days. Living in the deep end of the emerging media and technology pool, I'm fascinated with how quickly entrenched and evergreen brands, distribution platforms, and everyday efficiency tools have been replaced with new companies, delivery mechanisms and solutions. The relevance that Netflix, YouTube, Amazon, HBO Go, Showtime Anytime and Hulu have had on consumption patterns (binge consuming) and as genuine sources of top-notch programming (examples: Netflix's House of Cards
and Orange is the New Black
) is staggering. Coupling this second golden age of television to the current array of distribution and production options is brilliant.
—Peter Levin, CEO, Nerdist Industries
At times I have found myself responding to others' needs and requests, which deters me from the most value-added work I need to do for the company. I recalibrate once in a while by looking back at my calendar and to-do list to see if I am working on the things that are most critical for the business, rather than just doing a lot of little things.
—Joy Chen, CEO, Yes To Inc.
As an actor, I worry about the theater's role in telling the stories of our world's increasingly distracted and fragmented community. I was excited about seeing Mark Rylance in the dual bill of Twelfth Night and Richard III on Broadway this fall. He understands that a fundamental function of storytelling is to remind us that we are not alone, that we are all part of the bigger story.
—Matt Letscher, actor, CW's The Carrie Diaries
, upcoming film Devil's Knot
I'm consumed with building an online platform that enables entrepreneurs to raise capital and provides unique opportunities for everyday Americans to become equity investors. The possibilities for equity crowdfunding were unlocked by the JOBS Act, which updated 80-year-old securities laws. The changes will level the playing field for small businesses, the true economic engine of our economy, which are trying to raise money, and will enable "the crowd" to invest in projects and businesses they support.
—Joanna Schwartz, CEO, EarlyShares.com
Since establishing a New York office this past year, I'm flying frequently. At first, I struggled to eat healthy. Lately I've started to carry a bag of nuts and a protein bar. Having options in my purse for when I'm hungry helps me avoid the temptation of pizza at the airport. Also, given the dehydrating effect of airplanes, I carry a moisturizer and a drink.
—Shradha Agarwal, co-founder, ContextMedia
We're working on an exhibit for The National World War II Museum that transports patrons back in time and into a pretty unique situation. We start our projects from the audience's perspective, but this one underscores that approach. We began by asking our clients, 'What do we want the audience to think? How would we like them to feel? What will make such a deep impression that they have to come back?' Start there and work backward. You'll have what you need to deliver a moving, memorable experience. That philosophy has been key to our success.
—Gary Solomon Jr., president, Solomon Group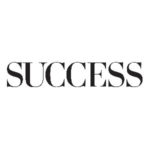 SUCCESS is your guide for personal and professional development through inspiration, motivation and training.