Tips from America's Youngest Entrepreneurs
Entrepreneurial talent and inspiration know no age. Some talented young entrepreneurs aren't even old enough to buy a lottery ticket or get a driver's license. But that doesn't mean they can't offer up a bit of wisdom on raking in the dough.
1. Ashley Qualls, 14
Successful Idea: Social Networking/Design
In launching Whateverlife.com, Ashley Qualls created the design and graphics for the social networking site and expanded her marketability by offering free layouts for MySpace. She even offered online tutorials to others with aspirations of becoming their own graphic design mavens.
On her Web site, Qualls says her philosophy is to offer "information and fun things for anyone and everyone"-including those with deep pockets, apparently. In 2006, Qualls turned down an offer of $1.5 million for her site-a business decision that probably kept her 7 million+ users happy.
2. Catherine Cook, 18
Business Idea: Digital Yearbooks
With more than 3 million members worldwide, Catherine Cook's MyYearbook.com is a social networking site with heart-and for good reason.
Cook's goal was to create a place teens could plug-in and connect, without fear of cyberbullying. Users sign a pledge to "think before they click" and learn how to respond if they're targeted.
The site's popularity has skyrocketed-so much so it's now the third-largest social networking site online. Oh, and it's pretty profitable as well. By 2006, MyYearbook had raised more than $4million from venture capitalists investing in the site.
Cook's business advice echoes of compassion, sincerity and positive support. In a 2006 interview, Cook said the best advice she'd ever been given is "to never give up".
"Sometimes it was really hard to keep up with the site along with my schoolwork and other responsibilities, and just being told that somehow I'll get through all the work I have helps," Cook said.
3. Cameron Johnson, 23
Successful Idea: Online Design
Cameron was bitten by the entrepreneurial bug early in life-real early. At 9 he started his first business making homemade greeting cards using Photoshop. By 15 he was making $400,000… a month. At 19 he sold a Web site in a six-figure deal. Johnson continues to pursue Web design ventures, and secure multiple streams of wealth, two years shy of his first legal drink.
In spite of his meteoric success, Johnson says there's more to life than amassing a small fortune. On his blog, Johnson encourages the importance of life balance as a key virtue. "Believe it or not, taking some time away from your business every day can be one of the best methods of increasing the productivity of the hours you spend at it," Johnson said.
Good advice, indeed.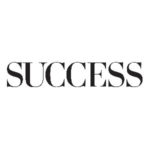 SUCCESS is your guide for personal and professional development through inspiration, motivation and training.