The SUCCESS Best-Seller List: March 2016
Take a look at the top-selling personal development books of the past month, and you'll see not all of them are new—that there are modern classics, like Gary Chapman's The 5 Love Languages, and all-time classics, like Dale Carnegie's How to Win Friends and Influence People. But others, like Gary Vaynerchuk's #AskGaryVee: One Entrepreneur's Take on Leadership, Social Media, and Self-Awareness, are brand new and already making waves in the self-improvement world.
For your journey to your best self, we continue our monthly list of the best-selling personal development books with the top 10 for March 2016:
1. #AskGaryVee: One Entrepreneur's Take on Leadership, Social Media, and Self-Awareness
By Gary Vaynerchuk (March 2016; HarperBusiness; $29.99)
An inspiring entrepreneur highlights the most interesting questions ever posed to him and offers insights and advice on marketing, using social media, creating a personal brand and hiring superstar employees. The New York Times best-selling author draws from his popular show "#AskGaryVee" to offer surprising, often outrageous, and imminently useful and honest answers to everything you've ever wanted to know and more about navigating the new world. Gary Vaynerchuk, the inspiring and unconventional entrepreneur who introduced us to the concept of Crush It, knows how to get things done, have fun and be massively successful.
2. StrengthsFinder 2.0
By Tom Rath (2007; Gallup Press; $29.99)
Do you do what you do best every day? Chances are you don't. All too often, our natural talents go untapped. From the cradle to the cubicle, we devote more time to fixing our shortcomings than to developing our strengths. Although you can read this book in one sitting, you'll use it as a reference for decades. The redesigned StrengthsFinder 2.0 companion website features a strengths community, a library of downloadable discussion guides and activities, a strengths screensaver and a program for creating display cards of your top five strength themes.
3. The 5 Love Languages: The Secret to Love That Lasts
By Gary Chapman (2015 edition; Northfield Publishing; $15.99)
Falling in love is easy. Staying in love—that's the challenge! How can you keep your relationship fresh and growing amid the demands, conflicts and just plain boredom of everyday life? Whether your relationship is failing or flourishing, Dr. Gary Chapman's proven approach to showing and receiving love is as practical as it is insightful. The 5 Love Languages includes a "his and hers" personal profile assessment. Updated to reflect the complexities of relationships today, the new edition reveals intrinsic truths and applies relevant and actionable wisdom.
4. You Are a Badass: How to Stop Doubting Your Greatness and Start Living an Awesome Life
By Jen Sincero (2013; Running Press; $16)
This refreshingly entertaining how-to guide serves up 27 bite-sized chapters full of hilariously inspiring stories, sage advice and easy exercises, helping you to create a life you will love. Identify and change the self-sabotaging beliefs and behaviors that stop you from getting what you want—create a life you love and make some damn money already!
5. On Fire: The 7 Choices to Ignite a Radically Inspired Life
By John O'Leary (March 2016; North Star Way; $26)
A rousing seven-step plan for living a life on fire, filled with hope and possibility from an inspirational speaker who survived a near-fatal fire at the age of 9 and now runs a successful business inspiring people around the world. We can't always choose the path we walk, but we can choose how we walk it. On Fire encourages us to seize the power to choose our path and transform our lives from mundane to extraordinary.
6. Living Forward: A Proven Plan to Stop Drifting and Get the Life You Want
By Michael Hyatt and Daniel Harkavy (March 2016; Baker Books; $21.99)
Each of us has but one life to live. What we do with it is our choice. Are we drifting through it as spectators, reacting to our circumstances when necessary and wondering just how we got to this point anyway? Or are we directing it, maximizing the joy and potential of every day, living with a purpose or mission in mind? In this step-by-step guide, the authors share proven principles that help readers create a simple but effective life plan so that they can get from where they are now to where they really want to be—in every area of life.
7. How to Win Friends and Influence People
By Dale Carnegie (1998 edition, originally published 1936; Pocket Books; $16)
Go after the job you want and get it! Take the job you have and improve it! Take any situation you're in and make it work for you! Since its release in 1936, How to Win Friends and Influence People has sold more than 15 million copies. As relevant as ever, Dale Carnegie's principles endure and will help you achieve your maximum potential in the complex and competitive modern age. Learn the six ways to make people like you, the 12 ways to win people to your way of thinking and the nine ways to change people without arousing resentment.
8. Mindset: The New Psychology of Success
By Carol S. Dweck (2006; Ballantine Books; $16)
After decades of research on achievement and success, the Stanford University psychologist has discovered a truly groundbreaking idea: the power of our mindset. Dweck explains why it's not just our abilities and talents that bring us success, but whether we approach them with a fixed or growth mindset. She presents why praising intelligence and ability doesn't foster self-esteem and lead to accomplishment, but might actually jeopardize success. With the right mindset, parents can motivate their children to become achievers.
9. The 7 Habits of Highly Effective People: Powerful Lessons in Personal Change
By Stephen R. Covey (2013 edition, originally published 1990; Simon & Schuster; $17)
The 7 Habits of Highly Effective People has captivated readers for more than 25 years. It has transformed the lives of millions of people of all ages and occupations, from presidents to CEOs, educators and parents. Recognized as one of Time magazine's 25 most influential Americans, Covey is an internationally respected leadership authority, family expert, teacher, organizational consultant and author. His books have sold more than 25 million copies in 38 languages, and The 7 Habits of Highly Effective People was named the No. 1 most influential business book of the 20th century.
10. The Gifts of Imperfection
By Brené Brown, Ph.D. (2010; Hazelden Publishing & Educational Services; $14.95)
Every day we face a barrage of images and messages telling us who, what and how we should be. We are led to believe that if we could only look perfect and lead perfect lives, we'd no longer feel inadequate. So most of us perform, please and perfect, all the while thinking, What if I can't keep all of these balls in the air? Why isn't everyone else working harder and living up to my expectations? What will people think if I fail or give up? When can I stop proving myself? In The Gifts of Imperfection, Brené Brown, Ph.D., a leading expert on shame, authenticity and belonging, shares what she's learned from a decade of research on the power of wholehearted living—a way of engaging with the world from a place of worthiness.
SUCCESS analyzes a combination of sales data acquired from Nielsen BookScan—which gathers point-of-sale data from more than 16,000 locations across the U.S.—and from a variety of independently verified sources within the personal development industry. This list represents sales from March 6 to April 3, 2016.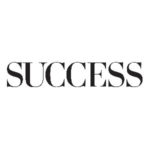 SUCCESS is your guide for personal and professional development through inspiration, motivation and training.