The SUCCESS Best-Seller List: June 2016
Take a look at the top-selling personal development books of the past month, and you'll see not all of them are new—that there are modern classics, like Gary Chapman's The 5 Love Languages, and all-time classics, like Dale Carnegie's How to Win Friends and Influence People. But others, like The Arbinger Institute's The Outward Mindset: Seeing Beyond Ourselves, are brand-new and already making waves in the self-improvement world.
For your journey to your best self, we continue our monthly list of the best-selling personal development books with the top 10 for June 2016:
1. StrengthsFinder 2.0
By Tom Rath (2007; Gallup Press; $29.99)
Do you do what you do best every day? Chances are you don't. All too often, our natural talents go untapped. From the cradle to the cubicle, we devote more time to fixing our shortcomings than to developing our strengths. Although you can read this book in one sitting, you'll use it as a reference for decades. The redesigned StrengthsFinder 2.0 companion website features a strengths community, a library of downloadable discussion guides and activities, a strengths screensaver and a program for creating display cards of your top five strength themes.
2. You Are a Badass: How to Stop Doubting Your Greatness and Start Living an Awesome Life
By Jen Sincero (2013; Running Press; $16)
This refreshingly entertaining how-to guide serves up 27 bite-sized chapters full of hilariously inspiring stories, sage advice and easy exercises, helping you to create a life you will love. Identify and change the self-sabotaging beliefs and behaviors that stop you from getting what you want—create a life you love and make some damn money already!
3. The 5 Love Languages: The Secret to Love That Lasts
By Gary Chapman (2015 edition; Northfield Publishing; $15.99)
Falling in love is easy. Staying in love—that's the challenge! How can you keep your relationship fresh and growing amid the demands, conflicts and just plain boredom of everyday life? Whether your relationship is failing or flourishing, Dr. Gary Chapman's proven approach to showing and receiving love is as practical as it is insightful. The 5 Love Languages includes a "his and hers" personal profile assessment. Updated to reflect the complexities of relationships today, the new edition reveals intrinsic truths and applies relevant and actionable wisdom.
4. Grit: The Power of Passion and Perseverance
By Angela Duckworth (May 2016; Scribner Book Company; $28)
Psychologist Angela Duckworth shows anyone striving to succeed that the secret to outstanding achievement is not talent but a special blend of passion and persistence she calls grit. Drawing on her own powerful story as the daughter of a scientist who frequently noted her lack of genius, Duckworth, now a celebrated researcher and professor, describes her early eye-opening stints in teaching, business consulting and neuroscience, which led to the hypothesis that what really drives success is not genius but a unique combination of passion and long-term perseverance.
5. Mindset: The New Psychology of Success
By Carol S. Dweck (2006; Ballantine Books; $16)
After decades of research on achievement and success, the Stanford University psychologist has discovered a truly groundbreaking idea: the power of our mindset. Dweck explains why it's not just our abilities and talents that bring us success, but whether we approach them with a fixed or growth mindset. She presents why praising intelligence and ability doesn't foster self-esteem and lead to accomplishment, but might actually jeopardize success. With the right mindset, parents can motivate their children to become achievers.
6. How to Win Friends and Influence People
By Dale Carnegie (1998 edition, originally published 1936; Pocket Books; $16)
Go after the job you want and get it! Take the job you have and improve it! Take any situation you're in and make it work for you! Since its release in 1936, How to Win Friends and Influence People has sold more than 15 million copies. As relevant as ever, Dale Carnegie's principles endure and will help you achieve your maximum potential in the complex and competitive modern age. Learn the six ways to make people like you, the 12 ways to win people to your way of thinking and the nine ways to change people without arousing resentment.
7. The 7 Habits of Highly Effective People: Powerful Lessons in Personal Change
By Stephen R. Covey (2013 edition, originally published 1990; Simon & Schuster; $17)
The 7 Habits of Highly Effective People has captivated readers for more than 25 years. It has transformed the lives of millions of people of all ages and occupations, from presidents to CEOs, educators and parents. Recognized as one of Time magazine's 25 most influential Americans, Covey was an internationally respected leadership authority, family expert, teacher, organizational consultant and author. His books have sold more than 25 million copies in 38 languages, and The 7 Habits of Highly Effective People was named the No. 1 most influential business book of the 20th century.
8. The Outward Mindset: Seeing Beyond Ourselves
By The Arbinger Institute (June 2016; Berrett-Koehler Publishers; $16.95)
Unknowingly, too many of us operate from an inward mindset of a narrow-minded focus on self-centered goals and objectives. When faced with personal ineffectiveness or lagging organizational performance, most of us instinctively look for quick-fix behavioral Band-Aids, not recognizing the underlying mindset at the heart of our most persistent challenges. Through true stories and simple yet profound guidance and tools, this powerful book enables individuals and organizations to make the one change that most dramatically improves performance, sparks collaboration and accelerates innovation.
9. The Gifts of Imperfection
By Brené Brown, Ph.D. (2010; Hazelden Publishing & Educational Services; $14.95)
Every day we face a barrage of images and messages telling us who, what and how we should be. We are led to believe that if we could only look perfect and lead perfect lives, we'd no longer feel inadequate. So most of us perform, please and perfect, all the while thinking, What if I can't keep all of these balls in the air? Why isn't everyone else working harder and living up to my expectations? What will people think if I fail or give up? When can I stop proving myself? In The Gifts of Imperfection, Brené Brown, Ph.D., a leading expert on shame, authenticity and belonging, shares what she's learned from a decade of research on the power of wholehearted living—a way of engaging with the world from a place of worthiness.
10. Daring Greatly: How the Courage to Be Vulnerable Transforms the Way We Live, Love, Parent, and Lead
By Brené Brown, Ph.D. (April 2015; Avery Publishing Group; $17)
Every day we experience the uncertainty, risks and emotional exposure that define what it means to be vulnerable. Based on 12 years of research, thought leader Dr. Brené Brown argues that vulnerability is not weakness but rather our clearest path to courage, engagement and meaningful connection. She writes: "When we shut ourselves off from vulnerability, we distance ourselves from the experiences that bring purpose and meaning to our lives." Daring Greatly is not about winning or losing. It's about courage. When we step back and examine our lives, we find that nothing is as uncomfortable, dangerous or hurtful as standing on the outside of our lives looking in—wondering what it would be like if we had the courage to step into the arena.
SUCCESS analyzes a combination of sales data acquired from Nielsen BookScan—which gathers point-of-sale data from more than 16,000 locations across the U.S.—and from a variety of independently verified sources within the personal development industry. This list represents sales from June 5 to July 3, 2016.
This article originally appeared in the August 2016 issue of SUCCESS magazine.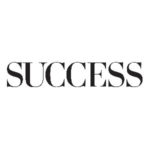 SUCCESS is your guide for personal and professional development through inspiration, motivation and training.