The Introvert's Guide to Starting a New Job
Nobody pictures the quiet new person at the back of the room when they imagine who the most promising employee in the company might be.
But if you're the quiet new person at the back of the room, you don't want to succeed at your ambitions on the strength of your image—you want to succeed on the high-quality hard work that you turn out your own way, day after day.
Related: The Introvert's Guide to Getting Hired
Unfortunately for introverted people, getting as far as that rewarding day-after-day grind means first having to negotiate the "getting to know you" stage of having a new job, which is precisely the opposite of the strengths you intend to bring to the role.
The good news is, those strengths can do all sorts of things you never expected; it's just a case of thinking laterally.
Related: Answer 3 Questions to Identify Your Strengths
To help you figure out how to turn your introvert superpowers into a strategy for acing your first day in a new job, check out the new infographic below. The power to succeed is yours.

SOURCE: ONSTRIDE.CO.UK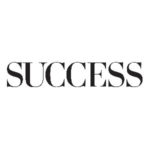 SUCCESS is your guide for personal and professional development through inspiration, motivation and training.