Suze Orman: How Not to Dress for Success
The story of how Suze Orman went from Buttercup Cafe waitress to financial mogul is an interesting one. In this excerpt from a 2009 SUCCESS magazine feature, Orman explains how a incredible leap of faith led to her ultimate success:
"Orman, who earned $400 a month as a waitress, had a dream to open her own restaurant. While working at the Buttercup Bakery in Berkeley, Calif., Orman befriended many regular customers. One day, she mentioned her dream to a longtime customer named Fred Hasbrook. She told Hasbrook she'd asked her parents for a $20,000 loan to start a restaurant, only to be reminded that though they would do anything they could for their daughter, they simply didn't have that kind of money to loan. Hasbrook spoke with several other regular customers. Before leaving, he went up to the counter and handed Orman a personal check for $2,000. Orman was shocked to see that Hasbrook and several other customers had written checks and commitments totaling $50,000. Along with the handful of checks was a note that read: "This is for people like you, so that your dreams can come true. To be paid back in 10 years, if you can, with no interest."
Unsure of what to do with that much money, Orman took Hasbrook's advice to invest it in a money-market account with Merrill Lynch.
At first, things went well. As her investment grew, she picked out a location for her restaurant and began working on building plans with an architect. She also watched the stock market and began learning all she could by reading The Wall Street Journal. After three months of increases, the markets soured. Orman says she had told her broker upfront that she only earned $400 a month and could not afford to lose the money—but that's what happened. She lost everything.
Orman was devastated and angry, but the experience gave her an idea: She could do at least as well as the broker who'd lost her money. So, rather than give up, she applied for a job as a broker at Merrill Lynch."
However, like any good rags to riches story, there's more to the back story than "happily ever after." In this SUCCESS magazine exclusive, here is one of the stories Suze shares:
"I got dressed in my best red-and-white-striped Sassoon pants, tucked them into my white cowboy boots, and put on a blue silk top. I thought I looked great! So did my friends at the Buttercup, who wished me luck as I set off for my job interview to become a stockbroker.
Five men interviewed me that day, and all of them asked me why I had dressed that way.
I told them I didn't know I wasn't supposed to dress this way.
It wasn't as if there were lots of female role models I could learn from. Before I knew it, I was sitting before the branch manager, who looked as shocked as all the other brokers who'd just interviewed me.
During the interview, he actually shared his belief that women belonged barefoot and pregnant. Seeing that I had nothing to lose, I asked him how much he'd pay me to get pregnant. He said, "Fifteen hundred dollars a month," and to my astonishment he hired me, though he also said that he figured I'd be out of there in six months. To this day, I am convinced I got the job only because he had a women's quota to fill.
Before I left the office, I was handed a book on dressing for success. I took the book and went straight to Macy's, opened an account, and charged $3,000 worth of clothes."
A figure so interesting, we had to feature her on our cover twice! Read our May 2012 cover story on Suze Orman and find out why 'An Orman Never Gives Up.'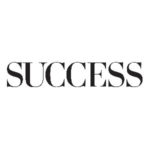 SUCCESS is your guide for personal and professional development through inspiration, motivation and training.