SUCCESS Talks Collection October 2017
These episodes are sponsored by altMBA and Sanebox.
In this month's edition, SUCCESS talks with Brendon Burchard, best-selling author, high-performance coach and personal development trainer about the real limits of your potential. We also chat with Miracles From Heaven producer and best-selling author DeVon Franklin about faith in a secular world. We also hear from Brad Stulberg, co-author of Peak Performance: Elevate Your Game, Avoid Burnout, and Thrive With a New Science of Success, on the tips and tricks to perform at your peak every day. Finally, you'll hear from Morra Aarons-Mele, founder of social impact marketing agency, Women Online, about the reality of success for introverts.
"There's nothing stopping anyone from being a high performer. It's completely measurable, improvable, malleable—it's not like we're all raised with a certain amount of success potential and it just stops there."
"I've worked in Hollywood for 20 years. I can tell you that the majority of Hollywood is filled with hard-working, good people of integrity—people who have families, people who wanna do good in the world, people who are committed to making content that can change people's lives. So the portion we see in the media is just a glimpse."
"Often creative breakthroughs…solving problems that are very tricky to solve, they don't occur thanks to that conscious effortful mind. It's only when the subconscious mind has the chance to kind of come online that we have those breakthrough insights."
"Anxiety is normal. It has nothing to do with your level of success or ambition to admit that you have anxiety. Some of the things anxiety brings us can actually be great tools in our career. One of them is the ability to tune in to other people and the ability to be empathetic. Introverts excel at being comfortable listening and taking in what other people around us feel."
SUCCESS Talks features fascinating interviews with prominent business, creative and thought leaders such as Tony Robbins, Anne Sweeney, Richard Branson, Tim Ferriss and Barbara Corcoran. SUCCESS Talks focuses on helping the listener nurture and develop their mind, body and spirit. Each month is thematically different and includes key takeaways designed to help you achieve your biggest goals and live your true passion.
Catch up on all episodes at SUCCESS.com/SUCCESSTalks.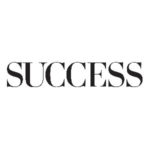 SUCCESS is your guide for personal and professional development through inspiration, motivation and training.