SUCCESS Talks Collection January 2018
In this month's edition, SUCCESS talks with Chip Gaines, co-host of HGTV's wildly popular Fixer Upper, about working together successfully with his wife, Joanna, and his experiences in business. We also chat with seven-time Emmy Award winner and Academy nominee Alan Alda about how to become a better communicator. We also hear from Mike Lewis, founder of When to Jump, about leaping into the unknown and how to make the transition. Finally, we hear from Gordon Hartman about Morgan's Wonderland, a $36 million San Antonio theme park named after his daughter that welcomes individuals with special needs.
"How can we encourage the people that are behind us, to some extent? To keep going, to stick to it? I think that vulnerability and that transparency, if you will, is important to us now at this point in our career because we want people to know it wasn't easy. There were some being in the right place at the right time moments."
"We write these truncated messages and just for a flash of a second we think, 'I hope they don't take that wrong, so I'll put an emoji in here, or I'll put a smiley face.' And to me, that's a little bit of hope because as short as the messages are getting, at least for a moment we're thinking, 'What is the other person thinking?' "
"What's the worst case scenario?…. If you get comfortable knowing that regardless of the outcome, you're going to be satisfied with taking that action because that journey is worth doing—regardless of what happens—I think that's the time to jump."
"When you give the opportunity of inclusiveness to special needs individuals, you've helped their self-esteem. And when you help their self-esteem, it gives them the desire to want to do more because they feel they can do more."
SUCCESS Talks features fascinating interviews with prominent business, creative and thought leaders such as Tony Robbins, Anne Sweeney, Richard Branson, Tim Ferriss and Barbara Corcoran. SUCCESS Talks focuses on helping the listener nurture and develop their mind, body and spirit. Each month is thematically different and includes key takeaways designed to help you achieve your biggest goals and live your true passion.
Catch up on all episodes at SUCCESS.com/SUCCESSTalks.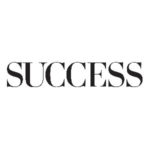 SUCCESS is your guide for personal and professional development through inspiration, motivation and training.