SUCCESS Retrospective: The Women's Conference Who's Who
Still buzzing from The Women's Conference 2010? The nation's premier forum for women held in Oct. 2010 featured dozens of influential thought leaders and entrepreneurs. Read more about the speakers and guests in this collection of archived features from SUCCESS magazine.
The Motivator
Jillian Michaels is one of the leading wellness experts in the country. Perhaps considered one of the most demanding people on television for her role as trainer and life coach on the NBC hit series, The Biggest Loser, Michaels has created a brand name for herself. Every week she motivates nearly 13 million TV viewers, more than 4 million subscribers to her Web site and daily e-mail newsletter.
With the TV volume turned down, the woman in tank top and sweatpants seems diminutive. She's in a gym, hands on hips. You can sense her intensity, talking a mile a minute at the grossly overweight man struggling on the treadmill next to her.
Turn up the sound, and she grows larger than life. "Keep moving! Don't you dare stop now! Last chance workout!" she shouts at the man as he gasps for breath, his sweat-streamed face contorted with pain.
Meet Jillian Michaels, co-star trainer on NBC's The Biggest Loser, best-selling author, and star of fitness DVDs and interactive video games. Michaels is the face of 21st-century fitness. She's tough. She tells it like it is. She gets results.
And here's the kicker: She really cares.
"I don't do things for the sake of television, for the sake of hype," says Michaels, 36. "I do them because I have a greater meaning behind my agenda, and that is to improve the lives of my contestants. So what might look mean or what might look crazy or what might look scandalous all has a deeper purpose for the greater good of my contestant."… MORE
Queen of Hip-Hop Soul
Mary J. Blige is a nine-time Grammy Award-winning singer/songwriter, producer and actress who has sold more than 40 million albums worldwide since her career began in 1992. She's intent on inspiring and empowering other women to reach their potential. But first, she had to overcome her own demons.
The "Queen of Hip-Hop Soul" vowed a long time ago to break through the cycle of abuse toward women that she witnessed—and lived—as a child. Mary J. Blige may have gone through fire to do it, but she is today living proof of the power of will, belief, and the determination to achieve her full potential.
Born in the Bronx, Blige spent her early years in Savannah, Ga., where she began singing in a Pentecostal church. She was only 4 when her father abandoned the family, and they moved to the Schlobohm Gardens housing projects in Yonkers. She was only 5 when she was sexually abused by a family friend.
"From the beginning," she says, "as far back as I remember, I do not remember women being treated good by men—except maybe for my grandma. From the time I was 4 years old to adulthood, I have vowed to never see a woman hurt."… MORE
Slaying Dragons
Say the name Erin Brockovich and you think, strong, tough, stubborn and sexy. Erin is all that and definitely more. She is a modern-day "David" who loves a good brawl with today's "Goliaths." From Brockovich, you can learn how to take control by learning to trust your instincts.
In 2000, Erin Brockovich became a household name, with Oscar-winning actress Julia Roberts playing her on-screen. But that was a decade ago. Today, Brockovich's identity is uniquely her own. She is the president of Brockovich Research & Consulting, and as such she receives countless e-mails from people across the nation concerning a variety of health and environmental issues. Through her research and public speaking career, Brockovich works to help people inform and empower themselves. While she is frequently asked about the case that made her famous, her current efforts—to encourage individuals to be proactive and to force companies to be accountable—drive her continued success. We talk as she drives across the California desert, and she explains that her mission is helping people take responsibility and control of their lives.
SUCCESS: How would you describe the focus of your work today?
Brockovich: My real thrust is the people. I see myself as a consumer advocate. My focus is on how people are being harmed or taken advantage of… MORE
The Thought Leader
Deepak Chopra is known as a prolific author of more than 55 books with sixteen New York Times best sellers on mind-body health, quantum mechanics, spirituality, and peace. Deepak Chopra has helped millions reach their potential. Read his strategies to help define your own success.
On his 14th birthday, Deepak Chopra's father made a small, yet purposeful, gesture: He gave his son some novels by Sinclair Lewis and W. Somerset Maugham as a birthday gift.
Chopra's father was a doctor in their native India, and he wanted his son to become a doctor, too. Chopra, however, dreamed of becoming a writer. He ignored biology and chemistry in school.
"The people I most admired were journalists and other writers who were friends of the family," he tells SUCCESS. "I had no interest in being a physician. But my father knew two things: that I had a fertile imagination and that those books were all about doctors and healers. At the age of 14, you're very pliable, so after reading them, I went to my father and said I wanted to be a physician."
Imagine the knowing smile on dad's face … MORE
Other speakers from The Women's Conference 2010 featured in SUCCESS magazine include:
Suze Orman
When a broker lost her nest egg in the stock market, Suze Orman decided to get financially educated. Now, she devotes her time to helping others do the same.

Daymond John
Daymond John was not a rapper. He couldn't sing or dance. But as a young man, he latched onto the emerging '80s rap scene in Queens and the Bronx as his path to success.
Tony Robbins
Tony Robbins has helped millions remove mental barriers to live extraordinary lives.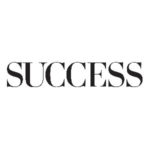 SUCCESS is your guide for personal and professional development through inspiration, motivation and training.