SUCCESS Magazine: November 2017 Issue
FEATURED THIS ISSUE
The man behind pop stars like Justin Bieber and Ariana Grande seeks to make a difference
By Michael J. Mooney
A little gratitude can go a long way—not just for your soul but for your health, too!
By Tony Rehagen
When a trip overseas doesn't go as planned, our writer relies on the help of strangers to make it home.
By Jesse Hughey
There's a lot of truth to the adage "with age comes wisdom."
By Jamie Friedlander
By being more mindful of his days, our writer learns how to live each one with purpose.
By Jesus Jimenez
Looking to give back, this company donates half of its profits to pediatric cancer research.
By Jonathan Auping
YOUR PLAN
Three keys to finding purpose every day.
Drs. Roizen and Oz share the importance of your family history.
GROWTH
Make a difference by adding value to others.
It's all about perspective.
COLUMNS
MAXIMUM LEADERSHIP
"The greatest show of gratitude comes from nurturing other people's development."
By John C. Maxwell
These are the nine relationships you absolutely need to succeed.
By John Addison
IN EVERY ISSUE
Students from New Jersey seek to achieve more.
Three friends turned novelty sunglasses into a business worth more than $20 million.
Reward yourself. Slow down and take time to appreciate the little victories.
What do your peers really think of you? Jeff Vrabel receives a 360 review from his friends, family and colleagues.
Fuel your next endeavor with these books, tips and practical advice.
ACTION PLAN
Put 10 lessons from this issue into practice today.
This article originally appeared in the November 2017 issue of SUCCESS magazine.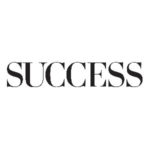 SUCCESS is your guide for personal and professional development through inspiration, motivation and training.