SUCCESS Magazine: February 2018 Issue
FEATURED THIS ISSUE
Gabrielle Bernstein shares how she went from wild partier to a speaker, author and self-described "spirit junkie."
By Cecilia Meis
These 6 individuals took large strides in 2017.
By Jamie Friedlander and Jesus Jimenez
THINK SMALL
Follow this advice to take your personal brand to the next level.
By Emma Johnson
THE HOPE TRAINER
After retiring from the NFL, David Vobora spends his time helping injured veterans push their limits.
By Jeff Sullivan
It doesn't matter who or what you believe in, praying and meditation have some serious benefits for the mind and body.
By Elizabeth Lombardo
SPEAK NO EVIL
Bleep this! Bleep that! Our writer and her family try to stop swearing for a boost of positivity. Is it worth it?
By Melissa Balmain
YOUR PLAN
HAPPINESS
Try these strategies to employ more self-respect.
HEALTH
A healthy gut is key to overall wellness.
Improve your finances in 2018.
PURPOSE
Read this before you deliver any criticism.
Columns
Tips on how to win the social game in business and life from the host of The Art of Charm podcast.
By Jordan Harbinger
ASK THE RESULTS GUY
This is how you can get better at reading people.
By Tony Jeary
MAXIMUM LEADERSHIP
Avoid these 4 common mistakes.
By John C. Maxwell
REAL TALK
Master the art of delegation in 3 steps.
By John ADDISON
In Every Issue
FROM
SUCCESS
Making a Difference
Through his think tank, Henry Elkus is uniting leaders to find solutions to society's biggest challenges.
DIVING DEEPER
After striking out on Shark Tank, these sisters got a second chance.
HOW TO
Stay resolute. Follow through on your New Year's resolutions with this advice.
THE CHALLENGE
Does dressing for success really work?
AHA!
These books, suggestions and tactics will help you achieve more.
ACTION PLAN
Here's your blueprint for personal growth with 10 takeaways from this issue.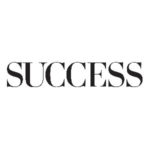 SUCCESS is your guide for personal and professional development through inspiration, motivation and training.