SUCCESS Foundation Inspires Teens to 'GR8'
by David Lee

The main office at Skyline High School in Dallas is a constant stream of activity. With nearly 5,000 students, Skyline is one of the largest high schools in the country. The SUCCESS Foundation introduced its Eight to GR8 program to the school as part of its mission to equip today's youth with the fundamental principles of success.
SUCCESS Foundation Director of Development Kate Gardner and I waited in the office for DJ Rock-T to arrive. Two staff writers and a photographer for the school newspaper waited with us. They prepared for an interview and photo session with Rock-T, who was coming to help launch the Eight to GR8 program at Skyline.
It wasn't long before Rock-T showed up, strolling down the hall with a smile on his face, wearing his "No Excuses. Get it done." T-shirt. He's a former Minor League baseball player with a lean, athletic build and an inviting disposition. He seems to be the type of person people just want to be around.
Rock-T is a radio DJ for the nationally syndicated "Ricky Smiley Morning Show" based in Dallas-Fort Worth. He delivers the Eight to GR8 message to the students through auto recordings, which are based on eight key success principles in the book SUCCESS for Teens®. Rock-T has been inspiring youth for years, using his local celebrity status to motivate kids. His ability to relate to what kids are going through coupled with his passion for inspiring youth to achieve success make him a perfect fit for helping the SUCCESS Foundation with its mission.
The writers for the school paper asked Rock-T about the SUCCESS Foundation and why it's so important to him to deliver success principles to kids. He explained his own experience growing up and how he was constantly presented with choices leading to either positive or negative results. He wants kids to understand they have opportunities every day to choose success. That's why the Eight to GR8 program is so important to him. And that's why he's committed to helping the SUCCESS Foundation change teens' lives.
During a hectic lunch period with hundreds of teenagers swarming the cafeteria, Rock-T handed out copies of SUCCESS for Teens and introduced himself to several students. Many recognized him and came over to talk. He's as comfortable as can be among the young crowd.
Skyline Principal Harold Wright said teachers are very excited about the program, and students naturally are drawn to Rock-T's personality. Rock-T and the SUCCESS Foundation want to take the Eight to GR8 program to school districts and youth organizations across the country. It's completely free to use and is designed to run itself, so it doesn't add more work for teachers and administrators.
More information about the SUCCESS Foundation and the Eight to GR8 program can be found at www.SUCCESSFoundation.org.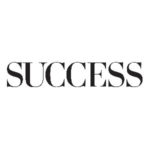 SUCCESS is your guide for personal and professional development through inspiration, motivation and training.