Simon T. Bailey to Host SUCCESS Live: Long Beach
SUCCESS.com contributor Simon T. Bailey has been tapped to emcee SUCCESS Live: Long Beach on Sept. 8-9. Bailey teaches people around the world how to build a bridge from their current reality to their brilliant future.
Related: Purchase tickets for SUCCESS Live: Long Beach before early bird pricing ends.
Bailey is the author of Shift Your Brilliance: Harness the Power of You, Inc., and Brilliant Living: 31 Insights to Creating An Awesome Life, and when he's not working, he enjoys rooting for the Buffalo Bills (his hometown team).
Q&A with Simon T. Bailey, Emcee of SUCCESS Live: Long Beach
What book are you reading right now?
Completing Capitalism: Heal Business to Heal the World by Bruno Roche and Jay Jakub
Did you do more talking or listening today?
More listening today, for sure.
Who was kind to you today?
David, my server at Seasons 52. He took care of me and my client. Most importantly he did it with joy.
I really wish ____ hadn't been invented.
Discrimination
What is your favorite television show or guilty pleasure entertainment?
My guilty pleasure entertainment is watching reruns of Casino Royale. I love all things James Bond. The Notebook, I believe in love. And Coming to America, I can repeat at least 5-7 lines from the Eddie Murphy classic.
Describe your last life-changing moment.
Recently, I was on a trail ride and was thrown from a fast-galloping horse. I landed on my side and cracked a rib. This was actually the second time I've been thrown from a horse. My takeaway: Next time I'll let go of the reins, instead of holding on tight. I am so glad to be alive and everything is healed.
What impact do you hope to have on the world?
50 years from now, billions of people are still talking about how to discover, release, and shift their brilliance.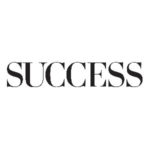 SUCCESS is your guide for personal and professional development through inspiration, motivation and training.