Robert Downey Jr.'s Many Faces
One of Hollywood's most talented actors–and for years, a poster child for its excess–Robert Downey Jr. talks about his new business focus and what keeps him from crashing and burning (again) in the January 2012 cover story for SUCCESS.
From Charlie Chaplin to Iron Man, here's a look at his films and greatest characters.
Counterculture Childhood
April 4, 1965—Born in Manhattan to actress Elsie Downey and independent filmmaker Robert Downey Sr.
1970—Makes acting debut as a puppy in one of his father's films, Pound.
1971—Downey Sr., reportedly a drug user, allows 6-year-old Downey Jr. to try marijuana. They continue to use drugs together over the years, Downey Jr. has said.
1978—Parents divorce and Downey Jr. moves with father to California.
Brat Pack
Early 1980s—Attends Santa Monica High School, rubbing shoulders with Hollywood up-and-comers including Rob Lowe, Emilio Estevez and Sean Penn. Drops out in 1982 to pursue acting full time.
1985—Movie break comes with supporting roles in John Hughes films Weird Science and Tuff Turf. These and other coming-of-age films link him with Hollywood's Brat Pack, a group of young actors such as Emilio Estevez, Anthony Michael Hall (below, right), Rob Lowe, Andrew McCarthy, Demi Moore, Judd Nelson, Molly Ringwald and Ally Sheedy.
Acclaim… and Addiction
1987—Performance as wealthy drug addict in Less than Zero garners widespread praise. The movie's tagline: "In Beverly Hills, you can have anything your heart desires. You just can't have it the way it used to be." Lands first leading role in The Pick-Up Artist.
Early 1990s—Bigger roles and movies for Downey include Air America in 1990 with co-star Mel Gibson; Soapdish, 1991; Chaplin, 1992, which earned an Oscar nomination; Natural Born Killers, 1994; Home for the Holidays directed by Jody Foster, 1995.
1992—Marries actress Deborah Falconer and they had a son, Indio, the following year.
1996—First major drug-related arrest for possession of cocaine, heroin and unloaded .357 Magnum. A month later, while on parole, trespasses in neighbor's house while under the influence and falls asleep (he thought it was his own house). Sentenced to three years' probation and mandatory drug testing. Same year, separates from wife; bitter custody battle and divorce follow.
1997—Misses court-ordered drug test and spends four months in county jail.
1999—Misses another mandatory drug test. "It's like I have a shotgun in my mouth and I've got my finger on the trigger and I like the taste of gunmetal," he tells judge, who sentences him to three years in prison. Judge agrees to his release after almost a year.
2000—Joins cast of TV series Ally McBeal as Ally's love interest. Performance earns Emmy nomination and Golden Globe Award, but before season ends, an anonymous 911 tip results in police searching his hotel room and arresting him for being under the influence and possession of cocaine and Valium.
2001—On parole, police find Downey wandering barefoot, arrest him for suspicion of being under the influence. Ally McBeal executives fire him. Plea deal involving earlier hotel arrest averts jail but requires rehab. Reflecting on this time period in 2004 interview with Oprah Winfrey, he says, "It's not that hard to overcome these ghastly problems… what's hard is to decide to actually do it."
Climbing from the Wreckage
2003—Downey is uninsurable; he's able to return to movies only after friend Mel Gibson pays insurance bond for semi-independent film The Singing Detective. Returns to mainstream films with Gothika (producer Joel Silver retains 40 percent of his salary as insurance until filming wraps); meets future wife Susan Levin, an executive vice president with Silver Pictures.
2005—Marries Levin.
2000s—Continues to land supporting and leading roles in movies including Kiss Kiss Bang Bang and Good Night, and Good Luck in 2005; Zodiac, 2007; The Soloist, 2009.
Blockbusters
2008—Cements his comeback with summer blockbusters Tropic Thunder with Ben Stiller, which garners Downey an Academy Award nomination, and Iron Man. He makes the year's Time 100 list.
2009—Stars in Sherlock Holmes, which earns him a Golden Globe Award.
2010 and beyond— Reprises role of Tony Stark in Iron Man 2, 2010; title role in Sherlock Holmes: A Game of Shadows, scheduled for release at Christmas; Tony Stark again in The Avengers, 2012, and Iron Man 3, 2013.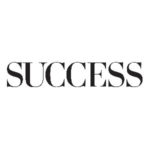 SUCCESS is your guide for personal and professional development through inspiration, motivation and training.