Read These 6 Books to Be Better in 2019
1. Are U OK?
A Guide to Caring for Your Mental Health
Regardless of your field, you may find yourself always trying to get ahead. You want that promotion. You want to build the next big thing, or make more money, or build your companies faster. And you may be willing to do it at any cost. The problem is that too many of us get so caught up in our professional growth and busy lives that we forget to take care of ourselves.
Morton's book tackles the tough subject of mental health with detail and care. The licensed family therapist and YouTube personality offers helpful tips on warning signs when it comes to mental illness and explains what type of care may be needed when these signs appear.
Even if you don't feel burned out, this is still a practical book that can help you recognize signs and symptoms early. Self-care is important and Morton explains why in this easily accessible book. (December; De Capo Lifelong Books; $20)
2. No Hard Feelings
The Secret Power of Embracing Emotions at Work
Past generations were raised to ignore their emotions at work. But Fosslien and West Duffy write that modern work requires an ability to effectively harness emotion. For leaders, they offer tips on how to be selectively vulnerable. They write about how small actions have the potential to have a significant impact in the workplace. And they explore the importance of taking a step back. "Few people look back at their lives and wish they had stayed at the office until 10 p.m."
This book offers valuable advice in a unique way. The tips are split up into lists, do's and don'ts and—because Fosslien is an illustrator of the webcomic Out of the Office—a lot of the book comes in charts, cartoons, and graphs, which makes all of the information very approachable. (January; Portfolio; $27)
3. How to Be Better at Almost Everything
Learn Anything Quickly, Stack Your Skills, Dominate
Pat Flynn thinks that people have for too long been taught that they need to specialize in one thing and become the best at it in order to succeed.
"You only need to be good or great—or at least fairly competent—at a few things," Flynn, a self-described generalist, writes "and then combine those things to foster that uttermost creative quality within yourself."
Diversifying your skill set seems like fairly obvious advice, but it's advice many of us don't act on. He offers five principles to becoming a generalist: 1) skill stacking over specialization, 2) short-term specialization, 3) the Rule of 80 Percent, 4) integration over isolation, and 5) repetition and resistance. Along with these tips, Flynn also shares examples of great generalists—including David Bowie, Mark Twain, Terry Crews and even Donald Trump—and explains what we can learn from them.
The advice Flynn offers can help you become a greater asset to your company, expand your talent base and make you better-rounded altogether. (January; BeBella Books; $22)
4. Take the Leap
Change Your Career, Change Your Life
If you're tired of your 9-to-5 job and often find yourself daydreaming about pursuing something else, Sara Bliss's Take the Leap features more than 60 stories of people who did just that. You'll meet Jon Deng, a U.S. Army officer turned software engineer; Ge Wang, a lawyer who became the owner of a menswear business; and Monique Greenwood, a magazine editor-in-chief turned innkeeper.
Bliss doesn't just share the stories of others, but also her own. She was working at the front desk of a Manhattan auction house "helping move art from one fancy apartment to another." So she left to become a writer.
The stories Bliss shares are important because "people who have radically changed their lives provide serious inspiration to… everyone who has ever wanted to switch gears but worry they are too old, too young, too broke," and the list goes on. If that sounds like you, this is a must-read. (December; Touchstone; $25)
5. Success Habits
Proven Principles for Greater Wealth, Health, and Happiness
Though Napoleon Hill died nearly five decades ago, there is still much one can learn from his teachings. His work these days is managed by the Napoleon Hill Foundation. In their newest production, Success Habits, you'll find never before published insights from one of the godfathers of personal development.
To create this book, a series of radio talks delivered by Hill were transcribed and edited for cohesiveness. The book is divided into 13 chapters filled with gems of deep insight such as, "Mental attitude attracts to you the physical counterparts of your dominating thoughts as surely as an electromagnet attracts steel filings. Keep your mental attitude positive at all times and you may make your life pay off on your own terms."
Hill's principles are candid, some coming from his own experiences and others in the form of entertaining stories. (December; St. Martin's Essentials; $17)
6. This is Marketing
You Can't Be Seen Until You Learn to See
Seth Godin returns with another must-read, combining marketing principles he's previously touched on, expanded and improved with new ideas as well. In a marketing world obsessed with click-through rates and social media metrics, Godin tries to shift how the industry sees itself. It's not all about numbers, he explains. It's about creating meaningful connections, empathizing with others and making a difference.
Godin presents his advice in ways that are easy to understand, dividing his book into case studies, stories, graphs and lists. Some of his best advice? Don't be afraid to change things. "Blow it up," Godin writes. "Start over. Make something you're proud of. Market something you're proud of." He follows that with the importance of using marketing for good. When marketing leads to positive change in the world or brings more joy to someone, that's when "marketing is beautiful," Godin says. (November; Portfolio; $24)
This article originally appeared in the Spring 2019 issue of SUCCESS magazine.
As an Amazon Associate, SUCCESS earns from qualifying purchases.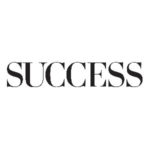 SUCCESS is your guide for personal and professional development through inspiration, motivation and training.