SUCCESS: With all your achievements to date, how do you stay motivated?
Staying motivated isn't a challenge for me. When I think about all I want to accomplish, despite all my successes, I haven't
even made a dent in what's possible. Opportunity is as vast as the sky. To stay motivated, all I have to do is look up.

SUCCESS: How do you keep yourself on track to achieve your goals?
It's all about commitment. Staying committed to whatever I've set my mind to do. Part of that is making a realistic assessment
of the potential pitfalls and the time it will take to reach the goal. Determining those factors in advance can prevent a
lot of headaches and bolster your patience. It's also crucial not to get distracted. Stay on course.

SUCCESS: What inspires you?
So many things. Speaking to the real people who are touched by my work and hearing that it makes a difference in their lives.
Their stories inspire me to do more and to try to do better. Listening to jazz. Life is like music-all the separate parts
coming together to create something extraordinary, surprising, unpredictable. The books of Maya Angelou-the wisdom and courage
of her words-continually inspire me.

SUCCESS: What do you most want to accomplish that you have not yet?
It's impossible for me to say quite yet. I just want to keep on growing and learning. If I do, who knows where it will lead
me?

SUCCESS: What's the smartest thing you have ever done with your money?
Sit on it! There are times when you should just keep your cash under your mattress.

SUCCESS: What successes are you most proud of to date?
No business success could rival the pride I have in my children. Their successes are my greatest joy.

SUCCESS: Biggest mistake or failure in your life?
I've made some doozies, some legendary blunders. But I promise you, the biggest mistake is probably still to come!

SUCCESS: Anything you wish you'd known sooner?
I wish I'd known the value of time, and that time is the ultimate luxury. At a certain point there are more yesterdays than
tomorrows. So I plan on spending all my tomorrow's very carefully and appreciating every one of them.

SUCCESS: Do you have any time-management practices that have helped you be more successful?
I have one ironclad rule: Always be on time. And if possible, be aggressively early. Whatever meeting you have to cut short,
even if you have to run those last five blocks, get there on time. Being late projects the wrong image and makes people lose
faith in your ability to prioritize.

SUCCESS: How have you continued to balance work, family and personal time?
It's a daily struggle, and I continually plead for understanding from my family and the people I love. I am so passionate
about what I do that personal time tends to get filled by business-it makes me happy, but can get exhausting. There are days
when I just need to take off and check out. No calls, no e-mail. Just down time.

SUCCESS: What are three personal philosophies that have guided you the most that might guide others?
Don't be afraid to hire people who are smarter than you-in fact, surround yourself with the smartest people you can find.
You'll be shocked at how much you'll learn. You don't have to be the smartest person in the room, but your employees have
to understand and respect that you are the boss.
Be so passionate about what you do that you can't wait to get out of bed in the morning. Make it so that you can't wait for
the sun to shine just so you can get out there and do your thing. Love what you do, and happiness will follow.
Money is the least important indicator of wealth.

SUCCESS: What other living achiever in our society do you most admire?
Nelson Mandela. When it comes to what is important and truly changing people's lives, who has achieved more?

SUCCESS: What defining moment set your ambition or philosophy for success in motion?
I owe so much to my mom, Bettye Jean Gardner, including the moment that got me pointed in the right direction. I was a kid,
watching a college basketball game on TV, and one of the announcers said that some day one of the best players might make
a million dollars. I whistled and said, under my breath, "Man, a million dollars!" And my mother, who was in the
next room, said, "Son, if you want to, one day you could make a million dollars." With that one sentence she convinced
me that in spite of where I came from, I could attain whatever goals I set for myself. That one day I, too, could be world-class
at something.

SUCCESS: What do you most want to be remembered for?
I can honestly say that the best is still to come, so hopefully my legacy, and what I'll be remembered for, has not happened
yet. I don't want to sit on my laurels. There's still too much to achieve.

SUCCESS: Please talk a bit about giving back to society-update us on your activities and the importance for other successful
people to give back.
I am in the process of forming a foundation that will assist with many problems, including two that are near and dear to me:
homelessness, as I was once homeless, and violence against women, because my mother was abused and I want to make sure mothers
everywhere have the resources they need to get out and fight back.
I make sure to give on a local level, in the places I know well. I can get to know how the operations run, get to know the
people who work there and the folks who need help; I can roll up my sleeves, pitch in and really see a difference being made.
The shelter and food kitchen at Glide Memorial Church in San Francisco saved my life in the early 1980s. There wouldn't be
a Chris Gardner today if there weren't a Glide back then. They serve over 1 million meals a year and provide the services
that get people back on their feet. I do all I can to help them today. I live in Chicago now where I work with the CARA program,
which assists the homeless and at-risk populations with comprehensive job training and placement. I believe in their philosophy
of second chances and helping people who are trying to help themselves by giving them the necessary tools and skills. I also
work with Peace Over Violence in L.A., a group doing extraordinary work in preventing violence against women and children.
Giving back when you are successful should not be seen as an obligation-it's a privilege. Being able to help others is a blessing.
And anyone can give-it's not just about money, giving your time and your compassion is just as important. You can volunteer
to hand out food or donate old clothes. And you can always lend your compassion and understanding. Remember these are still
people. They are not invisible. They each have a story. They are not just statistics. Educate yourself about homelessness
and domestic abuse. Know that there are warning signs, and there is often a fine line between getting by and not having anything.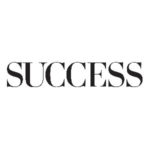 SUCCESS is your guide for personal and professional development through inspiration, motivation and training.