This is what was said by noted risk-takers at C2-MTL in Montreal:
"Generally in life, we shouldn't take ourselves too seriously. If we can make others smile, it's worth it making a fool out of ourselves sometimes."
—Richard Branson, founder and chairman of Virgin Group
"In the creative world, the most important thing the younger generation wants is to learn from experience. You can't teach if you're not learning."
—Sanjay Poonen, president, SAP
"What business is about—it is about looking at the changes and transformations in our world and using different lenses for different problems."
—Neri Oxman, environmental designer
"In the next 10 years you're going to see computers develop eyes and ears—a computer that can actually see and understand."
—Steve Brown, Intel futurist
"There's no such thing as 'no.' Keep your eyes on the road. Don't look at all the competition out there."
—Bobbi Brown, founder and CEO of Bobbi Brown Cosmetics
"Elitism is the essence of vulgarity. When you have a good idea, you have a duty to share it."
—Philippe Starck, product designer
"I wanted to be a woman who was in charge of her life."
—Diane von Furstenberg, clothing designer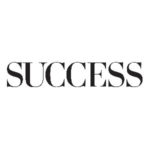 SUCCESS is your guide for personal and professional development through inspiration, motivation and training.