Notice Anything Different? Here's a Look Inside the New Redesigned SUCCESS.com
Your SUCCESS reading experience just got a lot better. Why? Because we've recently completed a nine-month overhaul of SUCCESS.com with you, the readers in mind. Here's a tour around SUCCESS's home on the web—the omnimedia source of smart, relevant personal and professional development content for people who seek the tools and training to improve themselves daily.
The website redesign highlights SUCCESS.com as the digital face of the 118-year-old SUCCESS brand, which includes SUCCESS magazine, the SUCCESS Store and the SUCCESS app for mobile and tablet. The new site gives you, the reader, an elegant, well-curated destination for personal and professional development content, with an improved user experience, a "mobile first" approach to design and products store and more content.
"We recognize readers don't consume one format," says SUCCESS General Manager Jim McCabe. "They consume many forms of media, delivered in the platform that makes most sense for them. SUCCESS has adopted this omnicontent strategy with the magazine, SUCCESS.com, the SUCCESS app and more."
One of the most exciting (and one of our favorite) new features on the site is the addition of "The Road to SUCCESS Content Guides"—collections of like content, curated based on your interests, including:
• Career: Your guide to finding, landing and excelling at the right job for you
• Leadership: Your guide to being a good manager and an even better leader
• Entrepreneurship: Your guide to going solo and turning your big idea into a business
"The Road to SUCCESS guides are special because we created them based on our data-driven knowledge of three types of readers we have on SUCCESS.com," says Shelby Skrhak, director of digital content and social media for SUCCESS.com, who led the site redesign and launch.
The leadership guide is for the manager who hasn't read the classic leadership books by John C. Maxwell and Stephen Covey, but wants to learn the time-tested principles that'll help them become a better boss, Skrhak says.
The career guide is for the standout employee who embraces learning the soft skills they don't teach in college and wants to practice those skills to advance his or her career.
Finally, the entrepreneurship guide is for the independent, who already has a blog or freelance career on the side, but wants to ditch the 9-to-5 and be their own boss.
"These guides are their daily inspiration, on-the-job training and personal career coach rolled into one," Skrhak says.
Aesthetically, the new SUCCESS.com has a soft, elegant appearance with color-coded categories for personal development, business and well-being—so you'll always be able to find your way around.
An additional feature inside the site is the newly redesigned SUCCESS Store, which offers a selection of top personal development tools. With its clean design, it's simple to shop for products by media type or topic categories and easy to make purchases on a desktop or your mobile devices.
The SUCCESS.com mission is to provide strong content and tools to people who want to take full responsibility for their own growth—aka you! From a recent college graduate interviewing for their first job, to the business executive who wants to leave behind their 9-to-5 job a start a new venture of their own, the website strives to deliver information to readers to help them achieve their personal goals.
"We want anyone who visits SUCCESS.com and reads just a few articles to come away better than they were before, having learned something and feeling inspired to be better at what's most important to them," Skrhak says.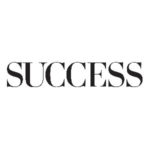 SUCCESS is your guide for personal and professional development through inspiration, motivation and training.