My Way: 14 Things That Push Me to Be Successful
Who?
Cara Santana
where?
Los Angeles
What?
Cara Santana co-founded The Glam App, which connects people with beauty experts. The app offers services such as makeup application, hairstyling and more. Santana is also an actress and has starred in several TV series and movies.
What's the last book you read?
I just finished Killing Kennedy by Bill O'Reilly. It was special because my father and I love talking about politics and debating, but we don't really agree on anything. He asked me to read this book and we bonded over it. My dad's 70, so it's nice to have something that keeps us connected—even if we disagree.
What's the last gadget you bought that changed how you do things?
I got a PopSocket, which is a gadget that you put on the back of your smartphone. It extends out and you can fit it in between your middle finger and index finger to relieve the pressure and weight of holding your phone. Because I'm always on my phone, it's been a lifesaver.
What's your favorite quote?
"Seek first to understand, then to be understood." —St. Francis of Assisi's "Prayer of St. Francis"
What's your favorite feel-good movie?
I love A League of Their Own. I love that it shows women in an empowering light. It's about being able to overcome obstacles and adversity.
What are you currently watching on Netflix?
I loved Master of None. I think Aziz Ansari is hysterical.
What's your secret weapon?
My mom because she's an attorney, and she's my attorney. She's the smartest woman I know.
What's the No. 1 thing on your bucket list?
I'm dying to go to Positano, Italy.
What's your favorite podcast?
Serial.
How do you handle disappointments?
Failure is a part of success. You have to get into a place of acceptance, identify the problem, and find a solution.
What's the most important lesson you've learned?
Any good quality in excess can be a bad quality.
What is something you think everyone should try?
Falling in love.
What's the best career advice you've ever received?
Know what you're good at and know what you're bad at because, you can't do it all.
When/What was your aha moment?
At 18, I got sober from drugs and alcohol. I've always begrudged that it was a part of my journey. But within the first five years of my sobriety, I was able to have such great gratitude that it was a part of my story. I always remember Steve Jobs saying, "You can't connect the dots looking forward; you can only connect them looking backward." I realized that my addiction created my love for acting and creating, and that everything happened for a reason.
What's your next big goal?
To produce a great TV series for Amazon, that it is purchased, and that it's a great new show next year; for The Glam App to have an incredibly strong month; and to continue to be happy.
Related: 5 Ridiculously Easy Things You Can Do Every Day to Feel Happy
This article originally appeared in the October 2016 issue of SUCCESS magazine.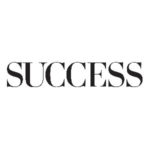 SUCCESS is your guide for personal and professional development through inspiration, motivation and training.