Miranda Lambert Graces the June 2015 Cover of SUCCESS
DALLAS—Miranda Lambert opens up to SUCCESS magazine's Susan Young about marriage, fashion and her need for being in control. Staying true to her simplistic country girl style, Lambert wears a white tank top and blue jeans on the cover of June 2015's SUCCESS magazine featuring Miranda Lambert, now available on newsstands nationwide.
"Brand Miranda" is more than country music—she runs a small-town boutique in Oklahoma, renovated a bed-and-breakfast, owns a winery, and founded a dog rescue group.
On MuttNation, the animal shelter she founded:
"Blake says, 'Miranda! Stop stealin' those dogs.' I tell him I'm not stealing them. I'm borrowing them long-term. No matter what, I'm always doing something with animals. I'm not a sitter-arounder."
—Miranda Lambert, SUCCESS magazine, June 2015 cover story
Young learned why Miranda lives by the advice "know who you are" during her time with Lambert. Despite being one of country music's golden girls, she has established her brand that goes far beyond her talented voice. With her small town upbringing in Texas, her parents—whose private investigation business failed and they lost the family home—laid the foundation for hard work and following your dreams.
Miranda Lambert Reveals…
Miranda Lambert was homeless for a short time as a young girl. When her parents' P.I. business went bust, her family moved to her uncle's goat farm.
Miranda's role model? Beyoncé.
Both Miranda Lambert and Blake Shelton have been on the cover of SUCCESS recently.
She went from the childhood farm to Nashville Star in 2003, and now Grammy-award winning country music artist and reputable businesswoman. Her thriving gift boutique, The Pink Pistol, and bed-and-breakfast Ladysmith, are just a few of the growing list of businesses she has established. Lambert also ensures she gives back from founding her own charity MuttNation which is an organization that raises money to support no-kill animal shelters, to bringing aid to those who were affected by the 2013 Oklahoma tornadoes.
Lambert's mom, Bev gave her the best advice she's ever received: "Know who you are." It is those four simple words that she has taken to heart and applied to not only the music and business industry, but in her personal life, style and relationships.
"My biggest advice to anyone: If you don't know who you are, how is anyone else supposed to know?"
—Miranda Lambert, SUCCESS magazine June 2015 cover story
What's Inside This Issue
The June 2015 issue of SUCCESS magazine, featuring Miranda Lambert, is all about performing at your peak and how to achieve your maximum self.
· Healthy Habits to Sneak Into Your Busy Life
· 7 Easy Hacks to Boost Creativity & Willpower
· Turn Fear Into Fuel: Let your anxiety energize you
· Simple Ways to Start the Day Right
How do you find time in your chaotic schedule to ensure you look and feel your best? Make good habits and behaviors a natural part of your day. Authors Clint Carter and Jeff Vrabel teach us how to start small changes in our daily lives—from taking a lunch break to do a quick 10 minute workout to becoming a master at power naps. They even share with us how we can incorporate apps to ensure we are having fun while becoming the best "us" we can be.
Still needing more motivation to get yourself moving in the direction you want to go? In our story "You to the N'th Power" by Patty Onderko, learn how to redefine the bar you set for yourself for being the "best" and how to both physically and mentally push until you reach it. You can become the "10" you want to be.
From the teachings of Lambert as to how to juggle and thrive in many different areas of your life while still being true to who you are, the June issue of SUCCESS is a must read for any individual that is wanting to learn how to perform at your peak both personally and professionally.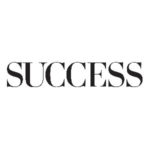 SUCCESS is your guide for personal and professional development through inspiration, motivation and training.