Megyn Kelly: 'Work Harder. Do Better. Stop Whining.'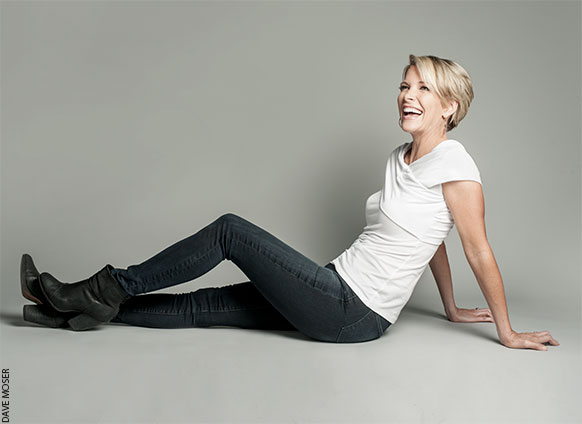 Megyn Kelly wants to hit someone.
That's her approach to journalism. She wants to press, to prod the people in power—or seeking power, as the case may be. She wants to see if they'll squirm in front of a camera. She wants to call out inconsistencies and highlight hypocrisy wherever she finds it. She feels it's her duty, her obligation as a journalist working for the American public.
Related: 5 Steps to Turn Your Passion Into Your Profession
This is what she was doing—hitting someone—when she asked famed political adviser Karl Rove during live coverage of the 2012 election results whether his insistence that Mitt Romney still had a chance in Ohio was, "just math that you do as a Republican to make yourself feel better, or is this real?" It's what she was doing when she told left-wing 1960s radical-turned-college professor Bill Ayers, "You sound like—with respect—Osama Bin Laden." And it's what she was doing when she asked Donald Trump, during the first Republican debate more than a year ago, to comment on the things he's said about women. Regardless of your political leanings, Megyn Kelly has probably hit someone you respect and support—and probably someone you detest, too.
She delivers the news and moderates discussions with a blend of quick wit, sarcasm and common-sense values. She's self-deprecating, with the augmented lexicon of a high-powered corporate lawyer, dropping words like acrimonious into casual conversation. Off-camera she's the same, except she also sprinkles in the occasional well-placed swear word—a reminder that she might live in a world of elite power and privilege now, but she comes from an unpretentious, middle-class family in upstate New York.
Over the last decade, this particular combination of traits has propelled her through the ranks at Fox News, from part-time Washington-based correspondent and legal analyst to near domination in prime time. These days, more than 3 million people tune in to her show every night—often more people watch her during the 9 p.m. time slot than watch CNN and MSNBC combined. Kelly was named one of Time's 100 Most Influential People. In the last year, she's been thrust, improbably, into the middle of what is perhaps the most bizarre presidential election in American history. Which has meant both new allies and new enemies and a stream of Twitter mentions she refuses to look at. It's meant a book deal worth a reported seven figures. And it's made her the most coveted property in cable news. The former president of CNN/U.S. told The New York Times that not signing Kelly was one of his biggest regrets, saying she is, "the one talent you'd want to have from somewhere else."
Sitting in her office on the 17th floor of the News Corp building, she's surrounded by photos of her husband and three children. A window looks out over bustling Midtown Manhattan. The last year seems like a blur, she says.
"Work harder. Do better. Stop whining. That's how I was raised, and that's how I feel."
It's a few hours before her show starts and she's wearing jeans, a white T-shirt and a stylish green vest. On her glass-top desk sits a fat manuscript—the book she's still putting the finishing touches on, with only weeks to go before publication. The title: Settle for More. Next to that is a fragrant white candle with Fox News printed on its glass holder.

DAVE MOSER
As she talks about her life, and the circuitous path her career has taken, Kelly is alternatingly funny and serious, stoic and surprising. When she discusses the last year, with all the perceived ups and downs and high-profile feuding with Trump, she sighs heavily. There was the flattering profile in Vanity Fair. The invitations to speak to some of the most powerful people in the world. The threats to her family. The calls from her mother—who read something online—wondering if she was going to be fired. Kelly laughs and smirks a bit, then shakes her head.
"It's so surreal," she says. "The whole thing. I keep thinking to myself: How does one question at a debate turn into this?"
***
Kelly is all for relaxing. If you work hard, she says, you need to relax sometimes. But she finds laziness abhorrent. She hates hearing people complain when they aren't actively working to change their lives.
"Work harder," she says. "Do better. Stop whining. That's how I was raised, and that's how I feel."
Related: It Only Takes 6 Steps to Change Your Life
Most of her focus in high school was on cheerleading, and she was captain of the squad. When she took an aptitude test—"Do they still have those?" she asks, midsentence—the results said she should be a journalist. So she shadowed a government reporter at her hometown Albany Times Union for two days.
He let this ambitious high-schooler listen in as he called his sources. She listened as he spoke to the elected officials of New York state, as he pressed them to clarify their positions.
"You could see he didn't suffer fools gladly," she says. "He seemed pretty fearless to me. He didn't really sugarcoat anything. He was kind of rough around the edges, and I loved that."
Then Kelly heard him call other sources, people he was friendly with. She listened to the reporter working each person, trying to get more information and advance the story. Even as she discusses it now, nearly three decades on, her eyes grow wider and her voice picks up pace.
"It seemed so exciting," she says. "It seemed important. It seemed like a real service, in that particular instance, to the state and the community. It was electric."
The experience was formative and inspirational. But when she applied for the venerated Newhouse journalism school at Syracuse University, she was rejected. She'd always wanted to go to Syracuse—she'd lived close to the school for nine years when her father worked in education at Syracuse University—so she figured she would start off in political science, keep her grades up, and transfer in.
"As it turns out, I was invigorated by political science," she says. "I loved the arguing. The logical reasoning part of it very much appealed to me. It dawned on me that would be another career for me." She adds: "Like most human beings, I enjoy the things I'm good at."

DAVE MOSER
After law school, Kelly moved from New York to Chicago after nearly two years at Bickel & Brewer, where she was hired by Jones Day, one of the biggest, most powerful law firms in the world. (It has more than 40 offices and reported annual revenues near $2 billion.) When she started, she loved it. She was surrounded by the smartest, most dynamic people she'd ever known and she'd never been so intellectually stimulated. She enjoyed listening to the war stories from the older attorneys, who were all master storytellers. She liked the strategy involved, the game planning, the battles. She liked the fact that she could out-prepare her opponents, often lawyers with degrees from Harvard and Yale.
"I felt so alive doing it in the beginning," she says. "Until I felt dead doing it. I didn't even think about fulfillment. I just thought about getting the next job, the next promotion, the right salary, the right husband. Check, check, check. And it wasn't until I got them all and stayed in my marriage and stayed doing these cases, and just kept doing it over and over—eventually you ram headfirst into the brick wall of unhappiness."
One night she was driving down the Kennedy Expressway in Chicago. It was 3 a.m., and she was crying, overwhelmed by the continued stress of work. "This wasn't an 18-hour-a-day week," she says. "This was 18-hour-a-day weeks for years." She knew she needed a break, but with another trial nearing, there was no break coming. That's when she wondered if maybe she should wreck her car.
"Maybe I could just have an accident and break a major bone," she says, looking back. "I don't want to hurt myself. I just need a rest. It wasn't that I wanted to die. But I also knew it had to be something bigger than like an elbow. It needed to be a femur. Something no one could argue with."
She made it home that night without breaking any bones but continued mulling it over as she went to bed.
"By the light of day the next morning it dawned on me that perhaps I could do something less drastic and just change my career."
Related: 5 Lessons on How to Make a Successful Career Change
In August 2002, she went home to visit her mother in upstate New York. She wrote in her journal at the time: I am more interesting than this. I am more interested than this. I will be out of the law by this time next year.
When she told her colleagues at Jones Day she was leaving the world of high-powered law to take a job doing local TV news, most of them were stunned. "They looked at me like I had three heads," she says. On top of the four years of college and the three years of law school, she'd spent more than a decade building a career most lawyers would pray for. But she wanted something else.
***
By August 2003, Kelly had her first job in television. She moved to Washington, D.C., where she covered national and local stories for the local ABC affiliate. She was hired by Roger Ailes at Fox News the next year. (For this story, Kelly declined to discuss her participation in the sexual harassment investigation that led to his dismissal from the network he helped start 20 years ago. New York magazine has cited two sources claiming Kelly acknowledged being the subject of harassment from Ailes a decade ago.)

DAVE MOSER
Kelly started drawing national attention in 2006, with her coverage of the Duke lacrosse rape case. While many outlets treated the story as a case of racial injustice, Kelly was more skeptical of the prosecution. Eventually the case unraveled, and in retrospect, Kelly seemed insightful, even prescient. Soon she was guest hosting for Greta Van Susteren and appearing regularly on Bill O'Reilly's show—where she famously reprimanded him for telling women to "calm down."
In 2008 she remarried, this time to internet entrepreneur-turned-novelist Doug Brunt, and soon after had her first child. In 2010 she got her own solo show, America Live, which aired for two hours every afternoon. In July 2013 she took maternity leave to have her third child, and returned in October with a new prime-time show: The Kelly File. (She made headlines when she defended parental leave for both men and women.)

AP PHOTO/ANDREW HARNIK
Early on, she developed her casual-but-serious-when-it-matters approach. She wants to hit, but she only wants to hit when it's appropriate, she says. Like when someone isn't telling the truth, or is justifying something horrible, or is seeking the office of president of the United States.
Kelly makes it clear that she doesn't consider herself a pundit, that she can argue either side of most debates. She says she does have strong feelings on most issues, but that she's very protective of her own views because her job is to be fair. She has a small, loyal staff of around 15—many of whom are young mothers themselves—and cultivates a team mentality at all times. Not long after moving to prime time, her show bumped longtime Fox personality Sean Hannity to a later spot. And at every stage of her television career, the ratings have gone up.
She has interviewed most national politicians and done specials on everything from terrorism threats to the very troubled Duggar family from 19 and Counting. She co-hosted Fox News Channel's 2012 election coverage and was asked to moderate Republican primary debates for the 2016 presidential election.
"I keep thinking to myself: How does one question at a debate turn into this?"

DAVE MOSER
Then came Trump.
She was sick on the night of the first Republican debate, in August 2015. She was throwing up so much that she had a bucket next to her on the stage just in case. But she wasn't going to let a stomach bug keep her from something this important.
She'd also met Trump several times before the debate. He even invited her to touch his hair in 2011. As she saw it, all of the moderators were asking all the candidates hard questions. That first round of questions was all about electability. She really didn't expect any of what came next.
In front of 24 million viewers, she asked her question—"You've called women you don't like fat pigs, dogs, slobs and disgusting animals"—and he interrupted to joke that he was talking only about Rosie O'Donnell. Kelly went on to list other remarks and asked Trump if that sounded like the temperament of a man we should elect as president.
Trump said he didn't have time for political correctness. "Honestly, Megyn, if you don't like it, I'm sorry," he said. "I've been very nice to you, although I could probably maybe not be based on the way you've treated me."
That was, of course, only the beginning. He went on to tweet about her repeatedly over the next weeks and months. He made an extremely coarse suggestion to explain what he perceived as Kelly's irritability, called her a bimbo and skipped the next debate she moderated in January. As far as most media outlets were concerned, this was a feud, with new advancements to the story coming constantly.
Trump supporters, including the conservative website Breitbart, went after Kelly on every front. There were attacks about her ratings, about her wardrobe, about nothing at all. Eventually she stopped reading comments and responses, stopped logging onto Facebook, and stopped reading the mentions section of her Twitter account. (She still posts thoughts on Facebook and Twitter, but often through the social media team on her staff.) At one point, Kelly challenged her fellow Fox anchors for not defending her more.
She also received plaudits from unexpected places. Michael Moore publicly praised her. Websites such as Salon and Jezebel posted sympathetic stories about her. Liberal commentator Bill Maher noted that Kelly herself should be the GOP nominee, saying, "She's so much better than the stiffs on the stage."
This is what she talks about when she says it's so surreal—Bill Maher suggesting, even facetiously, that she should run for president.
"That was love for what they wanted to see, which was a Trump foil," she says. "And I never was that. That was a creation, really of Trump's. It also served the purpose of many on the left. But that wasn't real. Not surprisingly, as soon as I tried to get to a détente with Trump, that love dissipated immediately."
She says it's hard on her husband to see the comments, and that she has to sometimes remind her staff not to engage with trolls. But, she says, it hasn't gotten to her much either way.
"I try not to listen much to the haters or the lovers. I don't think either one is real."
"I try not to listen much to the haters or the lovers. I don't think either one is real," she says. "I'm not saying the people who were upset with me in the wake of Trump's complaints didn't mean it. I believe they did. But as far as the incoming love"—she uses air quotes here—"I never believed that for one second. I believe it when someone stops me on the street and says thank you for being a role model for me or my child or for delivering the news in a way that doesn't make me feel bad or makes me feel like there could be hope."
***
A few hours after the interview in her office, Kelly is in the studio, ready for her live broadcast. On a typical day, her kids wake her up around 7 a.m. She gets as much quality time in as she can, as producers are filling her inbox with news of the day. By early afternoon, she and her staff have a conference call to set the rundown for the show—which stories they're covering, in which order. She's reading even more news on her phone as a driver navigates through Midtown Manhattan traffic.
Tonight's show has updates about a terror attack in Turkey, and retired Lt. Gen. Michael Flynn promoting his new book. There are clips from a panel discussion she taped earlier in the day with victims of terror attacks and she notes that she's hosting a special on the topic that will air over the weekend. Over the next day, fans will praise her tenacity and critics will lash out at her for unasked questions. But Kelly won't pay attention to any of it.
Related: How to Deal with Critics and Rejection
After the show, she has a quick meeting in the hall with her staff, and you can tell she still has the rush that comes from hosting a live TV show. She says she'll probably go back to her office and work on the book for a little while before taking a car home. Alhough her children are asleep by the time she gets there, most nights she has a glass of wine with her husband and unwinds.
This is what Kelly loves most about her job. "Unlike the law," she says, "this job has a shut-off valve. You can't stay up all night preparing for tomorrow's news. We don't know what tomorrow's news is going to be. And it doesn't do you any good, when the show ends, to go back and reread all of today's news, either. That will literally be yesterday's news. So that works very well for somebody like me."
Kelly wants to do more than just hit people. More than anything, she says she's driven by the desire to help people live better lives. "I realize it sounds trite," she says. "But there's something to it." Her role models for this are not fusty humorless news anchors of the past such as Walter Cronkite or Edward R. Murrow. Think more along the lines of Oprah Winfrey.
"She helped me change my own life," Kelly says. "To have a hand in that for someone else would be very meaningful. She says the people she's helped on her show are her legacy, and I think that's true. It would be nice to have a legacy that is about helping your fellow human beings, and empowering them to improve their lives as opposed to just being mired in political vitriol."

©2016 FOX BRAODCASTING CO
Kelly's contract with Fox expires in sumer 2017. If she doesn't return to the network—and Kelly told Variety this spring that she hadn't decided—she will most certainly be the subject of a bidding war among other news and programming outlets. One day—perhaps sooner rather than later—she wants a different kind of show. She describes it as a blend of her own show, Oprah ("in the later years") and Charlie Rose. "My husband says I should always throw in Larry the Cable Guy, too, because I'm a lot more like him than people realize."
This new show would still have hard news, but there will be more in-depth stories, with longer-form reporting. And she'd like to have something that more directly helps viewers.
She'll still hit people, just not as often.
Related: 19 Quotes About Following Your Passion
This article originally appeared in the November 2016 issue of SUCCESS magazine.
Michael J. Mooney is a journalist who writes for D Magazine, GQ, ESPN: The Magazine, Outside, SUCCESS and Popular Mechanics. He is co-director of the annual Mayborn Literary Nonfiction Conference. His stories have appeared in multiple editions of The Best American Sports Writing and The Best American Crime Reporting. He lives in Dallas with his fiancée, Tara, and their retired racing greyhound.