Meet the New President of SUCCESS
Don Hobbs calls them sliding-door moments. They are the times in life where you face what turns out to be a crucial decision. You choose one way or the other, and your life is never the same.
Sometimes you know it's a big moment—getting married, having kids, taking a new job—and sometimes you don't. Sometimes it's as simple as what to do on a Saturday night, which is when the first big sliding-door moment of Hobbs's career came.
He was 18 years old and attending a conference he didn't really want to go to. His mom, a second-generation Mexican-American, had bought him a ticket to hear the legendary business and life philosopher Jim Rohn speak. "You're going to love this guy, he talks like you," she told him.
What she meant, Hobbs says, was that they both radiated face-forward, success-oriented, power-of-positivity approaches. They were both do-ers, achievers, go-getters. Still, for a teenager from East L.A. in the 1970s, a night with a personal development speaker was not Hobbs's idea of a good time. But he had the ticket, so he went. It is safe to say he did not expect that 40-plus years later he would still be talking about that night.
When Rohn started to speak, Hobbs was enraptured. Rohn's speech—so simple, so profound, so applicable to life—sounded like magic to Hobbs. As Rohn offered wisdom, Hobbs became quickly hooked.
"For things to change for you, you have to change," Rohn said, and Hobbs scribbled that down at the top of the first page in his stenographer's notebook. He wrote and wrote and wrote, flipping one page after the next. By the end of the conference, he filled 19 pages.
During a break in Rohn's presentation, Hobbs got in line to talk to him. In the coming years, Rohn would become Hobbs's boss, mentor, teacher and father figure. In terms of the man, leader and entrepreneur Hobbs would become, there has not been a bigger sliding-door moment than this, though of course he had no idea at the time.
"I want to do this," Hobbs told Rohn. "I want to be like you."
In the decades since that meeting, he has done just that—absorbing and fusing, applying and amplifying what Rohn taught, first while working for Rohn and later on his own. As a thought leader, author, speaker and entrepreneur, Hobbs has influenced hundreds of thousands of people, all because of that one sliding-door moment in a hotel conference center on a Saturday night in Orange County, California.
Now comes another sliding-door moment. As the new president of SUCCESS Enterprises—which manages SUCCESS magazine, SUCCESS.com and other entities—Hobbs, now 62, is charged with helping to lead the next generation of people pursuing personal development.
***
When the opportunity to purchase SUCCESS Enterprises for eXp World Holdings came along, new CEO Glenn Sanford made Hobbs one of his first calls.
"Don was a natural person to bring into the conversation," Sanford says.
Hobbs' background with Rohn fit with SUCCESS Enterprises, which owns much of the late icon's intellectual property. Before founding eXp, Sanford himself took one of Hobbs' courses, and he observed the power of Hobbs' work as a coach and visionary speaker to eXp Realty audiences in the years since.
"Helping us steward the SUCCESS brand is right in his wheelhouse," Sanford says.
Steward is a word that both Sanford and Hobbs have used often since taking the helm at SUCCESS. Both have studied personal development and share a reverence for the messages they believe will make a difference in the lives of billions of people.
Through its 124-year history, the magazine has featured contributions from and collaboration with the titans of personal growth and business thought leadership, from founder Orison Swett Marden, to Dale Carnegie, Napoleon Hill, Og Mandino, Rohn, Zig Ziglar and Tony Robbins (a fellow Rohn disciple who Hobbs worked alongside in their younger years).
"The real vision is to create a great place for this iconic brand to breathe and grow, and for those iconic names to be honored," Hobbs says. "We believe we can make it bigger still. We see SUCCESS as not ours, but for the world. This will be where personal development happens."
Hobbs wants the magazine, website, social media channels, podcasts and other properties to continue to be for others what the print product was once for him. "When I was 18, 19, 20, in Jim Rohn's company, and Tony Robbins was there with me, that was our Bible," Hobbs says. "It was my foundation when I was in the formation stages of my personal growth."
The media landscape was different back then, of course. Hobbs jokes that social media in those days was that if you gave a speech in, say, Cleveland, you told the people who attended that you'd be back later that year, and they should bring their friends. SUCCESS now reaches millions of people instantly via social media and virtual platforms, both existing and emerging. Imagine, Hobbs says, the size and scope of conferences held virtually instead of in person. Because it would be cheaper and easier to attend, many multiples of people could be there by watching from home instead of traveling far.
Under Hobbs' architecture, that virtual space—SUCCESS World—now exists and is free for anyone to visit. Access is available to all at SUCCESSWorldDownload.com.
Hobbs expects the level of interaction between influencers and SUCCESS readers to explode through a variety of new ways of getting together online. Already scores of people are flooding into Hobbs' and Sanford's productivity clinics held in the virtual auditorium space—every weekday at 11:30 a.m. (EST).
"In SUCCESS World you can rub shoulders with, say, the likes of a Mark Victor Hansen or a Glenn Sanford or a Jay Shetty," Hobbs says. "They'll just be wandering around the virtual campus like they would at a hotel. You go, 'Wow, I just ran into Grant Cardone. This is a cool place.' This is where people hang out. This is where personal development is created."
***
Personal development can be created anywhere—in a virtual world, at a conference, in face-to-face coaching sessions, and even alongside a trout stream. Hobbs has chased trout all over the world, from Russia to California, Canada to Chile, and most recently in Puerto Rico, where he makes his home these days with partner Allison Gaddy, a real estate agent.
Fly-fishing is a release for him, a way to disconnect from a world awash in consumerism and pursue its antithesis. Fly-fishing is an art form, he says, in which the goal is to catch fish big enough to kiss, and then put them right back in the river.
"I love the peace and tranquility," Hobbs says. "You're in God's country. You're in a creek up to your knees. It doesn't happen in ugly places. It happens in the most beautiful places in the world."
He sees many parallels between fly-fishing and business. What is choosing the right fly and casting it to the right spot at the right time except marketing in waders and a funny hat? "You've got to know what the fish are eating. If you offer them what they're eating, they want it. If you offer them what they're not eating, it's going to be a long day," he says.
Fly fishing also reveals opportunities to apply growth philosophies. One day in the 1980s, Hobbs left his Southern California home for a five-hour drive so he could get to the Sierra Nevada Mountains early enough to put a line in the water and pull fish big enough to kiss out of it. He was a mile from his home when another driver ran him off the road. He smashed into a tree, totaling his car.
He could have thrown a fit, ranted and raved about a cancelled fishing trip, lamented his loss of time on the water, mourned for unkissed fish. He could have spent the next few days getting his broken down car fixed. But as he stood next to the twisted heap of metal, he had better thoughts. Here was a perfect opportunity for Hobbs to apply what he had taught for years: It's not the circumstances that you can't control that determine your life. It's how you react to them. Or as Jim Rohn put it, "It's not what happens that determines the quality of our life. It is what we DO with what happens!"
This was a sliding-door moment only possible because of Hobbs's years-in-the-making mindset. Getting in a car accident on the way to a fishing trip was a difficulty, but that wasn't going to stop him. The totaled car would be there when he got back. Hobbs's reaction applied both his and Rohn's teaching.
Instead of living at the whim of external circumstances, he instead governs his reactions to those circumstances. "It's not what's going on, what happens," he says. "It's what you decide, what you choose. It's making the most out of any situation. That's a sliding-door moment: one more decision. Do I choose to be a victim, or do I choose to take control and have life be great?"
He took control. He called a friend and told him he needed to borrow his car. He jumped in the car and resumed his trip to the mountains.
Eleven days later, the mountain streams by then full of trout telling stories about being kissed by a man with bright eyes and a big smile, Hobbs stuffed his fishing gear into his friend's car, climbed in, and drove home. He got his own car fixed and came away with an all-time great fishing and life story.
***
It's difficult for Hobbs to pick the most important lesson he learned from Rohn because there are so many and because they intertwine so intricately. If the still unfolding life lesson about time management isn't it, it is at least the one he tells the most. Hardly a week goes by without him sharing it with someone.
The lesson started not long after Hobbs' initial conversation with Rohn at the conference in Orange County, when Hobbs went to work for him.
"I was a complete, dismal failure," he says. There was a tried-and-true formula for sales success, and Hobbs wasn't following it. He didn't have a great self-image, either. Barely making enough money, he dedicated himself to learning all he could. He read business books, personal development books, and biographies. He mastered the art of presenting in front of groups, learned to overcome objections and lapped up every word of Rohn's wisdom.
In his second year, Hobbs made a decent living. His third was a smashing success. Hobbs' belief in himself, his success quotient and his salary, all skyrocketed.
"Great job, Donald," Rohn told him. "Now figure out how to do it in less time."
Because everyone has the same amount of time, Rohn taught, it is what they do with that time that separates the good from the great. "Once you figure out how to do whatever it is you do, how do you do it in less time?" Hobbs says. "How do you stay focused on things that move the ball down the field rather than lateral passes that don't move you—the activity versus the productivity?"
It's been a recurring lesson throughout Hobbs' life. In the early 2000s he hired a coach and told him he wanted to make more money so he would have more time to pursue the life he wanted. The coach showed Hobbs he already had all the money he needed, and that what he really needed was to make better use of his time.
The coach introduced Hobbs to the idea of the Vacation Miracle. As the theory goes, we are most productive the week before taking off for a vacation; we take no unnecessary calls, go on no unneeded lunches, and do everything we can to get as much done as possible before leaving.
The coach told Hobbs to act as if all time is Vacation Miracle time. He told him to highlight all the things on his calendar that were absolutely necessary. Next to them, the coach told Hobbs to put the things that were most important to him. The rest of the time on the calendar, the coach said, was Hobbs' to do with as he pleased. He could travel, spend time with family, fish, whatever.
"He said, 'This is exactly how you can have it.' "
Hobbs was, to put it mildly, skeptical. No freaking way, he thought to himself. I've never taken that much time off. He followed the coach's advice anyway. The next year, he took 162 days off and spent roughly 75 of them fly-fishing. It worked.
"The best part was my partner and I tripled company volume and doubled our personal income, in a year in which I had more time off then I've ever had before," he says. He learned again what he had previously learned from Rohn. "What I took away from that was, it's about compression of time. That's been the lesson of my life. How do you do that? You focus on the very few things that move the ball forward."
***
Hobbs loves nothing more than to create positive sliding-door moments for other people. His roles have changed along the way, of course. After that dismal start at Jim Rohn International, he rose to be the company president at 24. He left Rohn a few years later and has since founded businesses in training and advertising while working as a coach, speaker and author. He has been a salesman, led sales teams and served as an executive. But no matter the specific role he was in at any given time, he has been driven to deliver hope, to elevate, to teach people that they can be better and do better. "That's been my purpose, forever," he says.
Even during down times—economic downturns in 1993 and 2008 threatened to wipe him out financially—he never lost his passion for helping people.
"What kept me going was, I loved watching people get the message. I've said more than a few hundred times in speeches and seminars, I love when the lights go on, and you can see they get it. They were beat down, life had been tough on them, and they get it. They see, I have hope. I see my potential. I can do something different. This is my way out, this is my way up. I know my purpose. I have direction."
And now, as president of a company with a worldwide audience already in the seven figures and plans to grow far beyond that, he has a chance to watch untold millions—why not billions—find that hope. That's a lot of sliding doors for a lot of people.

Photos by Noel Del Pilar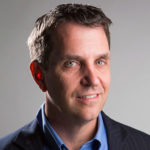 Matt Crossman is a writer based in St. Louis. He writes about sports, travel, adventure and professional development. Email him at [email protected]