This Is What It Takes to Build a Successful Business
Who: Laura Johnson, Founder, CEO, and Distiller of You & Yours Distilling Co.
Where: San Diego
What: As one of a growing number of female distillers in the country, Johnson brings a creativity and fresh perspective to the creation of spirits and hand crafted cocktails. Named to the Forbes 30 Under 30 before her business even reached it's two-year mark, Johnson's San Diego-based distilling company and tasting room is California's first "urban destination distillery."
The most exciting thing about starting a business is… that it's all on you. Your failures are your own and your successes and wins are your own. Obviously building any business takes a team and I happen to have an incredible one, but just the freedom to make the decisions for the company and have those be wholly your own is really empowering.
I get the most joy when… we get a really amazing review or when we release a new spirit or product and we get the type of feedback that we want to hear. For example, if I release a new gin I'm inevitably hoping people pick up on specific tasting notes or enjoy it in a certain way. When someone resonates with something I have created and put out in the world, it brings me immense joy and satisfaction.
When creativity strikes I… make sure to write down my ideas. If I put pen to paper then that helps cement an idea in my mind. But I also really like to take action right then and there. If I get an idea for a flavor profile I will immediately take steps to R&D that product or I get on the phone with our formulation consultant so that I am immediately starting the process to bring that creative idea to life.
I keep the creative fires burning by… mixing in a good amount of play. Taking time off and giving myself permission to really check out and enjoy myself and my space and my time. I need to give myself the time to not be "in it" all the time. When you start your own business you eat, sleep and breathe it, so I think it's really important to take a calculated step back regularly.
I'm inspired by… confidence. When I see it in others, it inspires me to muster a little more of my own. Although I'm incredibly proud of how far I've come and what I've built, I think we can all use a little reminder to pat ourselves on the back from time to time.
The best book I read recently is… Aesthetic Intelligence: How to Boost It and Use It in Business and Beyond by Pauline Brown. I read it last year and I bought everyone I know and love a copy. It's a really impactful book because it goes into how important aesthetics and design are to every single facet of a business and a brand. That really speaks to me as I am a huge proponent of this mindset. I am very sensitive to aesthetics and therefore appreciate when they are done well.
I define success as… contentment. There are a lot of different levels of success and I think that as an entrepreneur that's something I struggle with. We are never satisfied. Even if we do hit a target or have a big win or meet a goal, we take a little time to celebrate and then it's right on to the next thing. Success is about being content with the journey and the pace at which you are hitting those accomplishments.
Read next: You & Yours Distilling Co.: A California Spirit Lover Distills Her Passion Into a Business
Photos courtesy of You & Yours Distilling Co.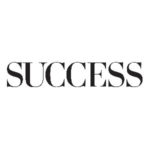 SUCCESS is your guide for personal and professional development through inspiration, motivation and training.