Jewelry Sensation Kendra Scott Shines on the April Cover of SUCCESS Magazine
DALLAS—Kendra Scott's eye-catching designs adorn everyone from Hollywood A-listers and tastemakers, to budget-conscious women with a flair for fashion. But the Kenosha, Wisconsin native's empire had far more humble beginnings: After the failure of her first business, Scott started her eponymous jewelry line in an extra bedroom with just $500 in her pocket. In SUCCESS Magazine's April cover story, Scott opens to writer Amy Anderson about how failure has made her stronger—and why family and philanthropy always come first in her multi-million dollar business.
"Every single employee, whether you're an intern, part-time, holiday help, or C-level, should have the same level of love and respect and care. How you treat people is what you get back."
–Kendra Scott tells SUCCESS Magazine, April 2016 cover story.
The issue also uncovers the secret of "The Billionaire Prep School," John P. Stevens High School in Edison, New Jersey, which boasts an unusually high number of successful graduates, including music greats, a space commander, blue chip business leaders and more. Journalist Chris Raymond discovers that, when it comes to molding the leaders of tomorrow, a little competition and a culture of success goes a long way.
Also Inside This Issue
SUCCESS Magazine's April issue is all about where you "Dwell." Whether your office is your second home, or your home is your main office, the environment around you can have a dramatic impact on your productivity and happiness. The April issue offers a number of perspectives on improving where- and how- you work.
Among other features, it highlights:
"Can't Fight This Feeling"- Former Facebook exec

Randi Zuckerberg

shares how she still found time to chase her dream of performing on Broadway—and how she draws upon her own experience to coach others looking to achieve their dreams.
"A Little Work Around the House"- This month's feature by writer

Jeff Vrabel

takes a comical look at the reality of the home office: the freedom and self-direction, but also writing at swim meets and in minivans.
"This House is Clean(ish)"- Writer

Melissa Balmain

uses

Marie Kondo's

best-selling book The Life-Changing Magic of Tidying Up to tidy up both her home, and her life.
Also in this issue, Leadership Editor John Addison explains how the power of influence and likeability is of utmost importance to become a real leader. In his "Real Leadership Quiz," he uses items from his new book, Real Leadership: 9 Simple Practices for Leading and Living with Purpose, to compile a leadership-style test and tips for using your own style to find personal success.
For full stories, pick up the April 2016 issue, on newsstands now. For more information about SUCCESS Magazine and additional personal development content, visit www.success.com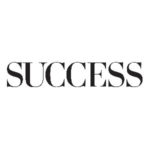 SUCCESS is your guide for personal and professional development through inspiration, motivation and training.