How Jaylon Smith's Resilient Optimism Makes Him Successful On and Off the Field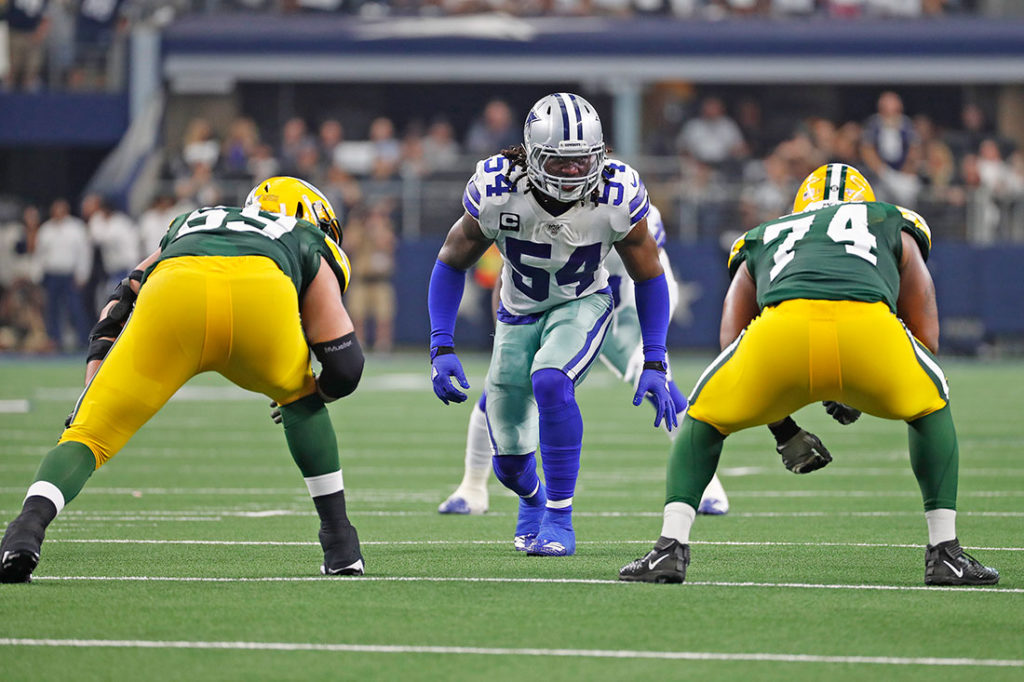 At this time four years ago, Jaylon Smith should have been counting the days until he could cash a check for about $10 million as a top pick in that spring's National Football League Draft. Instead, the then 20-year-old was spending much of his time meeting with doctors, trying to find out if he could ever even play football again
In his final college game as a linebacker for Notre Dame, Smith suffered the same devastating knee injury that has ended thousands of football careers, a torn ACL. And much worse, he had nerve damage and the loss of feeling in his left foot. After reviewing his medical reports, many NFL teams started taking the All-American linebacker off their draft boards altogether, unsure he would ever return to the field, never mind with the same explosiveness and speed.
Really, no one knew. There were educated guesses, there was hope, there was the resilient optimism of Smith himself, just no guarantees.
"My first reaction was why now, why the timing? I was this top prospect who had it all going and to have that kind of adversity, at that moment, going into the draft, that just seemed cruel," Smith, a Fort Wayne, Indiana native, says. "It was tough. I had to believe in me coming back before anyone else could."
That April, the Dallas Cowboys took a chance and selected Smith with the draft's 34th overall pick, early in the second round. The injury had indeed cost him millions, but he would still have a chance to live his dream.
He didn't play at all his first year, continuing his rehab, and in his second season he still wasn't right physically. But by Year 3, the knee was more or less back to normal. Like riding a bike, he quickly became one of the premier linebackers in the NFL, and this past August, he inked a five-year contract extension with Dallas which could be worth up to $64 million. Plan A is paying off after all.
While sidelined that first pro season that Smith deployed Plan B, he started down the path of another lifelong ambition, that of an entrepreneur. He immediately capitalized on his new national fame as a fan favorite for America's Team, selling personally branded apparel online. He has expanded his offerings and his business ventures since.
Smith was attending a charity event in 2018 when he met fellow 20-something entrepreneur Kyle Jones, whose cryotherapy sports recovery company iCRYO already had six locations up and running, six more under construction and 25 future locations sold. Two weeks after their chance encounter, Smith invested in three locations in his home state of Indiana and several more in Dallas-Fort Worth.
"We talked for 30 minutes that first time and he was so authentic, it shocked me really," Jones says. "Athletes are usually full of themselves, but Jaylon's core value is so aligned."
Smith has been using cryotherapy for years going back to Notre Dame, and it played a role in his recovery from the torn ACL.
"It's a new wave, an advance way for all ages to recover," Smith says. "I'm a true believer that this can help a 60- or 70-year-old just as much as a professional athlete."
Since joining the Cowboys, Smith made an effort to attend as many charity events as he's been invited to, and this past offseason, he hosted a venture pitch competition for minority entrepreneurs, a Shark Tank-like event in his hometown that funded $300,000 in startup cash.
Despite leaving a year early for the NFL, Smith continued taking classes and fulfilled a promise to his mother when he walked across the stage and collected his diploma in May 2019. By then, his dual-dreams of football stardom–he was named the 61st best player in the league by a vote of his peers–and of impacting lives off the field was in full force.
As Smith delves into the business world more and more, he plans on utilizing one of the most impressive and powerful mentors one could have, Cowboys owner Jerry Jones. The two established a fast bond after Dallas drafted Smith, and their emotional connection was on display at the press conference announcing Smith's contract extension this past August.
Jones' voice cracked several times when talking about the rehab process, how the young linebacker never complained, and adding of Smith's story, "This has it all. It has overcoming, it has power, it has ambition—[it's] just the beginning of what ambition will get you in the future."
For his part, Smith is loyal to the Cowboys for taking a chance on him when his football future was uncertain.
"Right now, I am keeping the main thing the main thing and that's football," Smith says. "But I want to be more than a great football player. I want to be a rock in business and I want to be a rock as an employee of the Cowboys. My parents instilled a great value system in me and I know when I focus on something, I'm going to thrive." 
This article originally appeared in the March/April 2020 issue of SUCCESS magazine.
Photo by ©JAMES D. SMITH/DALLAS COWBOYS
Jeff Sullivan is the editorial director at Panini America and a columnist for Dallas Cowboys Star Magazine. He lives in Arlington, Texas.