How to Start a Freelance Business
One of the most common questions I get is, "How did you start your freelance business?"
I have been a self-employed media professional for more than a decade—first as a freelance business and finance journalist, then as the founder of a media company. Over the years I have amassed a huge network of solopreneurs and spent many of my business hours (and plenty of my personal ones, too) drilling down into what makes these entrepreneurial efforts work and what doesn't. One consistent recipe for success is to parlay corporate experience into an independent venture.
Related: How to Go From Employee to Entrepreneur
Here are guidelines for launching that dream business by using your staff work experience to your advantage:
Sketch out a dream business. What will you sell? Who will you serve? How much do you want to make, and how much will you need to charge to make that? What will you do differently from your competitors (current employer included)?

Write down all of your skills you can use to make the company a success. Also write down two more things: 1. Skills you don't have. Decide if these are skills you will learn or outsource (hint: one of the biggest challenges and downfalls of very smart entrepreneurs is their inability to effectively outsource). 2. Skills that you do have but are overqualified for. Yes, you can answer your own phone and do your own social media posts, but your pay grade is likely much higher than those tasks require. If you are going to grow your business, think about hiring help—perhaps part-time contractors, at least to start.

Create a business plan. This plan must be reviewed, updated, tweaked and revised at least monthly in the early days. In other words: You don't know what you don't know.

Talk to people who have made similar career moves. We're all busy these days, and some may bristle at a request to "pick your brain." Request 15 minutes on the phone, or offer to buy an hour of their time on Skype. Consider it a small investment in startup research.

Start small and while still employed. If at all possible, launch your new venture as a side gig. The hours may be long, but you will benefit from the financial security of a paycheck and can test your skills and interest in your drawing-board business.

Leverage your corporate résumé when promoting your new business. Showcasing impressive brands where you worked and highlighting successful case studies at your old job are fantastic ways to promote yourself.

Be careful with your current contract. Review (or have a lawyer look over) any non-compete clauses in your recent employment agreement.
One consistent recipe for success is to parlay corporate experience into an independent venture.
Brad Gold
71; Black Dog Coffee; Los Angeles
I worked my entire career for corporate restaurant chains doing management, supervision and training. At 53, I was laid off from a senior operational position at a struggling restaurant chain. Over the years I had interviewed enough middle-aged job applicants to appreciate that it was time to become self-employed. I borrowed money from friends and relatives; found a struggling café location; changed the name, menu, recipes, and look of the café; and went for it. My wife did a great job designing on a dime. Seventeen years later I am eternally grateful for the layoff and for the opportunity to launch what has become a very successful café, all thanks to the skills I learned in corporate food-service management. I have eight terrific full-time employees—some have been with me for many years.
Annie Davis
45; Palm Beach Travel; Palm Beach, Florida
For years I was a member of the American Express Centurion team, which plans travel and manages lifestyles for the top 10 percent of the wealthiest cardholders. I left a rewarding career at American Express to open a storefront travel agency. I saw a need for an agency on the island of Palm Beach. At the beginning, systematic planning and demographic research—the foundations of my AmEx training—were keys to this agency's success. While in my corporate job, I worked to build credibility with clients, vendors and the business community. Plus, my success at American Express gave me the confidence to become an entrepreneur.
Betsy Smith
40; Allin Smith social media marketing firm; New York City
After being a stay-at-home mom for a decade, I landed a number of staff jobs in New York City marketing agencies, moving up to management. In those roles I learned everything about the industry: how to pitch, write selling proposals, close deals and manage clients. It doesn't matter whether you are a solopreneur or a corporation—most of the processes are identical. Once I had made the decision to go off on my own, my first concern was getting clients. I learned that people love to help others get new business. I systematically reached out to friends and professional connections and posted the exciting news of my new business on social media. I had my first client less than a month after leaving my job. The first projects I worked on weren't household names or paying my goal rate, but I treated them as though they were. Those projects and the constant nurturing of my network led to bigger and better opportunities, and now I have a very solid pipeline and client work that is much more interesting than what I was doing at my old job. Plus I am making about three times my last salary and have a much better quality of life.
Related: 3 Pieces of Advice for First-Time Entrepreneurs
Want to take control of your future? Step into the YouEconomy to create the financial freedom and flexibility to run your life your way. Join the movement at SUCCESS.com/YouEconomy.
This article originally appeared in the August 2016 issue of SUCCESS magazine.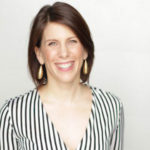 Emma Johnson is a business journalist, gender-equality activist, and founder of the world's largest community of single moms, WealthySingleMommy.com. Emma and her best-selling book, The Kickass Single Mom, and her organization, Moms for Shared Parenting, have been featured in hundreds of national and international media outlets.