The entrepreneur builds a successful enterprise by overseeing everything with meticulous attention to detail. You've heard this story before.
It's her vision, hard work and special skills that make the business thrive. But revenue eventually plateaus. Consultants tell her that to reach the next level, she must focus on what she does best and hire executives to handle everything else. She hesitates.
Her fears: What if no one can do what she does? Worse, what if they undo all her hard work and achievements?
Jim Stewart, founder and CEO of ProfitPath, a Toronto-based small-business consultancy, says companies usually hit a breaking point somewhere between $1 million and $10 million in revenue. "The only way they can grow is for the owners to change their own attitudes and how they run the business," Stewart says.
Often the founder doesn't know how to delegate major responsibilities. "It's one thing to hire someone to work in the warehouse. It's something else entirely to hire a vice president of sales or operations," Stewart says. A lot of times the owner continues to micromanage each situation, or kicks back and abandons the organization entirely.
"The key to successfully relinquishing control of a business is to make smart hires, then find a middle ground—retain some control while allowing people to run their departments and listening to their advice," Stewart says.
Considering taking a step back from the business you've nursed from infancy? Keep these expert tips in mind:
Look deeply within yourself. Are you willing to make the dramatic changes required to make your company grow? This strategy is not right for all business owners. "Everyone has their own limits, and different abilities to change," Stewart explains. "The question is: Are you aware of your own limits?"
Think ahead. Senia Maymin, Ph.D., a coach to entrepreneurs and CEOs, has seen many small-business owners lose sight of long-term goals because they are so focused on day-to-day successes or failures. "It can be easy to ignore advice to hire senior managers when everything is profitable right now or if you're feeling stressed about what is happening this month," says Maymin, co-author of the book Profit from the Positive
. "It's important to look ahead five or 10 years and ask yourself how such a move could make a positive impact on your company."
Take your time when searching for executive candidates. Stewart asks his clients, "How long did you know your spouse before you got engaged and married? If you bring someone into a senior role in your business, that is arguably as important as a partner in your personal life. Make those decisions carefully."
Do not immediately offer equity to high-level hires. Establish a trial period of two years to see what they are capable of and whether they jibe with your organization. "Getting equity back is an awful lot harder than giving it up," Stewart points out.
Ashley Morris
Owner and CEO
Business: Capriotti's Sandwich Shop, a national chain of casual restaurants
Strategy: After the new chief operating officer's potential was recognized, he was promoted to president.
Results: Since the new president was hired in 2012, the chain has grown from 70 to almost 100 stores.
When I bought Capriotti's with a partner in 2008, the company had a great menu and great name recognition, but it lacked infrastructure. The stores were divided between the mid-Atlantic and Nevada, and there was no collaboration between the distribution chains. I soon oversaw the rollout of a national supply system and could give the outcome only a 6 on a 10-point scale.
Around the same time we hired Patrick Walls as our COO. He had a strong résumé in operations for another national sandwich chain, and when we rolled out the second phase of our infrastructure project, he oversaw it. I gave him a 9.75 on that same scale. It quickly became clear that it made much more sense for Patrick to handle the day-to-day operations of the company, and we began a two-year plan to transition him to the role of president.
Patrick is a natural leader and has allowed us to attract some of the best talent in the industry. Today he oversees 25 people directly, plus all of our restaurant employees, and he's built an infrastructure that can easily support another 250 restaurants.
With the day-to-day duties off my plate, I can focus on what I do well: growth strategy, being the face of the business, franchise relations and keeping up with our financials.
This isn't to say Patrick's promotion did not require some soul-searching. I used all of the money I had in the world to buy this company—plus investments from family and friends. My family was relying on me to make this a success. If we failed and I was in control, at least I could look in the mirror and accept that it was my fault. But I came to realize that by putting the right person in the right position, our money was actually safer. It was a hard pill to swallow, but I'm still confident in my decision.
Lisa Firestone
President and owner
Business: Managed Care Advisors, an employee benefits consultancy
Strategy: Firestone hired a part-time controller and CFO to handle accounting and financial advising.
Results: Thirty to 40 percent annual profit increases starting in 2008—the same year of those hires.
For the first few years after I started the company in 1997, I did everything, from setting up the computers to all the accounting and invoicing. I gradually added a handful of people until 2003, when I was brought in to do a project with the U.S. Army.
Servicing federal government contracts was a huge opportunity with the potential to take the business to the next level. But while I was an expert at the things involved in running my company up to that point, I didn't know anything about government contracts. So for my first federal project, I worked with a partner who understood the nuts and bolts.
That really opened my eyes. I realized that to grow this new business, I needed to focus on what I do best—strategic planning and business development—and rely on experts and advisers for some of the other details.
I started to learn how to hire smart. I brought in a part-time CFO who told me I had to get away from accounting. I hired a part-time controller but didn't trust him at first, so I had him work on a duplicate system for a year. Since he came on in in 2008—right as the big recession hit—our growth skyrocketed at a rate of 30 to 40 percent each year.
As I've learned what my strengths are, I now look at every employee in a different light. Even if all of my 45 workers are great, that doesn't mean they are in the right position. So I'm not timid about moving them around to roles where their skills are best used.
I've had to learn how to delegate—and I've gotten very good at it. But I ask that my employees keep me informed. As long as I know what is going on, I'm cool. But when I start to feel disconnected, I get the urge to do the helicopter thing again. For that reason, I always keep my office door open.
Ben Sayers
Founder and CEO
Busines: VoIP Supply, an online retailer of communications hardware
Strategy: After years of delegation and increasing responsibilities, Sayers promoted from within a president/CFO.
Results: The handoff has allowed Sayers to delve into building a complementary business.
I started VoIP Supply in 2002 and hired Paula Griffo as our controller five years later. She did a great job of getting us through the recession. Through those years, she made a lot of very important financial decisions that proved to me she is really competent and keeps the business at heart, as well as our customers and employees.
Throughout these years I've learned a lot about myself as an entrepreneur—I now know I'm much more of a startup person than a growth person. I am very good at building a business, but I lose the sense of urgency necessary to maintain growth. I started to see that the company was leaving business on the table because I was focused on daily operations and not landing new deals. Paula is much better in that respect.
Two years ago we started a handoff process to promote Paula to president and CFO. I empowered her to make increasingly important financial decisions, and I asked her to tell me "no" a lot; I tend to be super-optimistic, and she tends to be super-practical.
Thanks to her good sense, we got out of a bad lease, got rid of nearly $1 million in debt and have been profitable for three years in a row. Plus, she's in a much more visible, leadership-oriented role in which she can be more accountable for direct managing, meeting goals and purchasing decisions—tasks that are not my best. This frees me to concentrate on what I am good at: building new business.
Not long ago I was able to move my workspace from the main floor of our office down to the warehouse, where I can focus on the service business I started a few years ago. We get new hardware customers each day, and they all need service, but were going elsewhere to get it. Our service business was limping along because I was not giving it enough attention. Now I can.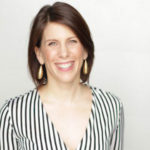 Emma Johnson is a business journalist, gender-equality activist, and founder of the world's largest community of single moms, WealthySingleMommy.com. Emma and her best-selling book, The Kickass Single Mom, and her organization, Moms for Shared Parenting, have been featured in hundreds of national and international media outlets.