How I Succeed in the YouEconomy: Crafting Freedom
Khara Ledonne, 33, Painter with an Etsy shop featuring lockets with miniature oil paintings
I became a painter because…
In my 20s, I started to feel like I had more security being self-employed than I did working for other people because the job market was so finicky. I've always made my living off blending my ideas with my clients' ideas. I've done murals, signage, big and small things depending on what location I was in or what the market was.
I continue working for myself because…
It's a freedom for change because I don't feel locked into a place, a company or a boss I don't like. I've worked for schools and restaurants and I liked it, but ultimately it felt like somebody else's structure that I was a part of. There's something so rewarding about feeling like I'm creating something that nobody else can create and putting it out into the world. It makes me feel, to some extent, irreplaceable.
The biggest lesson I've learned is…
To live frugally. When things aren't going well—and sometimes they won't go well for a year—it gets really discouraging. Sometimes you have to pick up another job to make up for it. That's OK. Whenever I've stuck it out and stayed committed, it's turned around. As long as I've saved some money to scrape by, it's been worth it for me. I don't mind unpredictability. I kind of like not knowing what's going to come next.
I love what I do because…
I feel like being a painter in any form means that I get to add color and brightness to people's lives.
This article originally appeared in the May 2017 issue of SUCCESS magazine.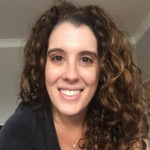 Jamie Friedlander is a freelance writer based in Chicago and the former features editor of SUCCESS magazine. Her work has been published in The Cut, VICE, Inc., The Chicago Tribune and Business Insider, among other publications. When she's not writing, she can usually be found drinking matcha tea into excess, traveling somewhere new with her husband or surfing Etsy late into the night.