Get a Glimpse Inside the Life of Former Navy SEAL and Popular Podcast Host Jocko Willink in the April Issue of SUCCESS
DALLAS — At 5-feet-11-inches tall and 235 pounds of pure muscle, Jocko Willink is intimidating. A former Navy SEAL, his path to personal-development stardom began after he launched a leadership consulting firm, Echelon Front, with his platoon commander. Upon retiring from the Navy in 2010, he expected to spend most of his time surfing and doing jiu-jitsu. But after a friend asked Willink to give a leadership talk to his management team, he discovered he had quite a knack for motivating others.
Since then, the San Diego resident has skyrocketed to success. Willink hosts a popular podcast, co-owns a mixed martial arts studio, has written one book (and has another on the way), produces his own brand of pomegranate white tea and holds an annual leadership seminar.
He's also known for his tough love and incredible discipline, which includes a 4:34 a.m. wakeup call each day. His motto? Discipline equals freedom.
"When you lack humility, you can't listen to anybody else. Not only that, when you lack humility, you don't respect your enemy or your competitor. And when you don't respect you enemy, you stop training hard… The worst thing about a lack of humility is that if you lack humility, you can't even do a solid, honest assessment of yourself. So you're not going to improve."
—Jocko Willink tells SUCCESS in the April 2017 issue
Also Inside This Issue
SUCCESS Magazine's April issue centers on the theme of toughness. Through profiles of people and organizations who exemplify this quality to tips for being more mentally strong and allowing oneself to feel vulnerable, we think you'll learn how to be the toughest version of yourself with this issue. After all, only the tough survive.
Bad to the Bone: In this profile, meet professional bull rider

J.B. Mauney

. Despite being hurt more times than he can count, Mauney still gets right back on the saddle.
Deal With It: Learn about the tips and tricks you need to be more mentally strong from psychotherapist

Amy Morin

. Life might be tough, but those equipped with the right tools and mindset can overcome any challenge.
In the Line of Fire: In this article, Associate Editor

Jamie Friedlander

spends the day with members of CeaseFire Chicago, an organization that takes ex-gang members and trains them to stop violence in the community. Learn about how they put their lives on the line for those they love.
For full stories, pick up the April issue, on newsstands March 14. For more information about SUCCESS Magazine and additional personal development content, visit www.success.com.
About SUCCESS
SUCCESS Magazine is a national newsstand publication and your guide to personal and professional development through inspiration, motivation and training. SUCCESS inspires 2 million readers a month, and has a total social reach of 5 million fans. SUCCESS Magazine was founded in 1897 by influential thinker Orison Swett Marden. It is published by SUCCESS Enterprises, LLC, a subsidiary of eXp World Holdings.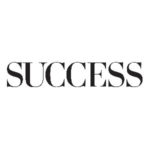 SUCCESS is your guide for personal and professional development through inspiration, motivation and training.