Funny Side Up: Snapshots from Rita Davenport's Career as a TV Host
Rita Davenport's speech impediment made every day words difficult to say. When she described the material from which her dresses were made of, thick feed sack burlap, she said "theed thack." That didn't stand in her way of going on to become a successful television host, company president and public speaker.
In this web exclusive, Davenport shares some of her favorite photos with her celebrities guests.
Read more about Rita Davenport in "Be a Hope Dealer" on SUCCESS.com.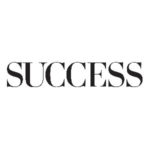 SUCCESS is your guide for personal and professional development through inspiration, motivation and training.