Tina Fey recognized her strengths (and weaknesses) at an early age. "I'm not one of the pretty girls," she realized in middle school. "I gotta have another move."
Fey told Google Executive Chairman Eric Schimdt during a recent [email protected] fireside chat, "When I grew up in the '70s and '80s, you were good looking or not. And if you weren't good looking, you could, just, learn a trade and relax."
Improv lesson from Tina Fey: "When Eric [Schimdt] said 'Freeze, I have a gun.' I didn't say 'That's not a gun. That's your finger.'"
Fey loved comedy. Watching Bob Newhart, The Carol Burnett Show and Saturday Night Live was a family affair in the Fey household. And she discovered that making people laugh helped her fit in.
In high school, she joined the drama club, and she majored in drama at the University of Virginia. After college, she moved to Chicago and studied improv at The Second City. "I became immersed in the cult of improvisation. I was very serious about it," she says. "I was like one of those athletes trying to get into the Olympics. It was all about blind focus. I was so sure that I was doing exactly what I'd been put on this earth to do, and I would have done anything to make it onto that stage…. I wanted to devote my life to improv."
In her April 2011 book, Bossypants, amid stories from her childhood, Fey shares lessons on her first love–improv. "The first rule is to agree," Fey tells the [email protected] audience. "When Eric [Schmidt] said 'Freeze, I have a gun.' I didn't say 'That's not a gun. That's your finger.'"
Her devotion to improv paid off; Fey became the first female head writer for SNL. Today, she is the creator, writer and star of the NBC hit 30 Rock. She has earned Emmy, Golden Globe and Screen Actors Guild awards, and the prestigious Mark Twain Prize for American Humor. In 2011, her star will be added to the Hollywood Walk of Fame.
Fey has graced the covers of magazines from Vogue to Esquire and has been listed as one of Maxim and People magazines' sexiest stars. Luckily for Fey and her fans, comedy stuck, but that awkward, not-so-pretty phase has long since passed.
Watch the entire [email protected] firechat chat with Tina Fey on our SUCCESS Video site.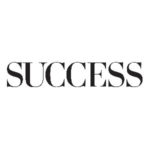 SUCCESS is your guide for personal and professional development through inspiration, motivation and training.