From the Archives with Robert Redford
At 43, Robert Redford was an established actor, director and producer who would later win an Academy Award and found the Sundance Institute and Sundance Film Festival. The following excerpt is from a feature published in the December 1980 issue of SUCCESS. In addition to his professional pursuits, Redford remains a philanthropist and an environmental activist. Last May, he received an honorary degree from Brown University.
Robert Redford, son of an oil-company accountant, was born in the oceanfront community of Santa Monica, Calif., a middle-class enclave of beaches and palms adjoining Los Angeles.
During his teens, Redford moved to the bedroom community of Van Nuys, a few miles away. Those who knew him at Van Nuys High School remember him as a California version of Hubbell Gardner, the WASP prince he played in The Way We Were, a character to whom success would come as naturally as his tan, his blue eyes and his shock of sun-bleached hair. Young Redford was a terrific tennis and football player who was popular with the girls. But Redford remembers it differently.
"Actually, I was a failure at everything I tried. I worked as a box boy at a supermarket and got fired. Then my dad got me a job at Standard Oil—fired again. I got into trouble with the law-oh, nothing a New York street kid would recognize as juvenile delinquency, just stealing hubcaps and breaking into people's backyards to use the pool when they were away," Redford says. "Basically, it was because I wasn't happy in that environment. It was like living on a big Hollywood set-all appearanceand front and no substance."
He left Van Nuys to attend the University of Colorado on a baseball scholarship but was no more successful than before. Redford's creative energies chafed against the rules, against what he felt was unnecessary bureaucracy. "They were more concerned about your not writing on both sides of the paper than about what you were actually saying," he says. So, in 1956, he dropped out after one year of college and headed for Europe, where he planned to become an artist.
Eventually, he gathered all of his paintings and, in 1958, held a sidewalk sale that raised $200—just enough to buy a ticket back to the United States. "[The experience] gave me a kind of nervousness, which was good," he says. "In some sense, I think I'm healthier when things are toughest and more restless and worried when things are too easy. I always had confi dence in my own ability to survive whatever came along.…"
Redford was still uncertain about his ambitions. He began studying stage design, and a friend suggested that he spend a year at the American Academy of Dramatic Arts, to get some theater experience. So he switched from designer to actor in what proved to be one of the most fortuitous steps in his career.
Redford began to work on the off-Broadway stage, and his premiere Broadway role was literally a one-line part in a comedy called Tall Story—for which he was paid $82 a week. But he soon climbed toward the top, winning the lead in Sunday in New York, followed by another Broadway stage performance in Barefoot in the Park. A director wanted Redford for the movie version of the latter play so, in 1966, Redford turned to moviemaking. He appeared in movies such as The Chase and This Property Is Condemned.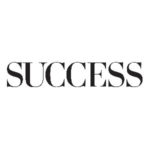 SUCCESS is your guide for personal and professional development through inspiration, motivation and training.