From the Archives: Ronald Reagan
The following is an
excerpt from the
November 1986 issue
of SUCCESS written former President Ronald
Reagan. The advice offered is as applicable
today as it was in 1986.
America is the greatest success
story the world has known. In
this special place between the
oceans is land of endless opportunity
destined to draw dreamers
from every corner of the globe.
For generations, Americans have
discovered there is no limit to what
faith and hard work can achieve
when men and women are free to
follow their dreams. Success was
meant to happen here.
Today there are 15 million small
businesses, including 600,000
minority-owned businesses. These
engines of opportunity are run by the
same kind of people who were my
neighbors long ago in Illinois. These
entrepreneurs reaching for success are
imaginative and hardworking, ready to adapt to changes in the
economy, and able to manage risks, improve efficiency, serve
their communities and create new jobs.
What drives them? It is the urge to excel, the passion of their
ideas, and the thrill that is the essence of entrepreneurship.
What nourishes them? Our freedom.
Entrepreneurs share a faith in a bright future. They have a
clear vision of where they are going and what they are doing,
and they have a pressing need to succeed. If I didn't know better,
I would be tempted to say that entrepreneur is another word for
American. Today's entrepreneurial spirit is what made America
great
and kept her strong,
safe and free. Today's entrepreneurs
are the promise
of tomorrow because these
special people hold in their
hands and in their hearts
a vision of the future that
will
create a richer and
more
rewarding life for
all mankind.
"If
I didn't know better, I would be tempted to say that entrepreneur is another word for American."
Despite our success, we
are not a selfish people.
America has been truly
blessed in all the days
of our history because
we want to help our
friends and neighbors.
That
is the way it was
on the frontier when
people got together
in the free spirit of
volunteerism to raise
a neighbor's barn.
That is the way it was
in Dixon, Ill., when I
was growing up. I didn't know at
the time, because the government never told me, but mine was a
poor family. And yet my blessed mother prepared food to share
with other families that had less than we did.
That spirit of volunteerism is alive today. We see it in the
spirit of Eugene Lang, who one day went back to the New York
elementary school he attended—P.S. 121 in Harlem—and
promised everyone in the sixth grade that if they graduated
from school and were admitted to college, he would personally
guarantee their tuition.
We see the same spirit in Bonita Bergin, who decided that
man's best friend could also be man's best helper. She created
Canine Companions for Independence, and today 200 specially
trained dogs are helping disabled people throughout the country
increase their independence. These dogs pull their owners in wheelchairs,
turn light switches on and off, retrieve items, and warn the
deaf of a baby's cry, an alarm's clock buzzer and a telephone's ring.
Willing volunteers, corporate and personal gifts, and private foundations
have made Bonita's work possible.
Sometimes, private corporations have taken the lead with private sector
initiatives that promote community partnerships and enrich
all of our lives. In Oakland, Calif., the Clorox Co. created Project
Joy, which stands for Job Opportunities for Youth. Project Joy trains
young people in the art of getting a job and holding on to it. Avon
Products makes it possible for disadvantaged children to give their
families Christmas gifts. In Boston, the Polaroid Corp. trains 500
unemployed inner-city people each year for worthwhile jobs and
then follows up to make certain they find such employment.
Last year, the American people gave almost $80 billion in charitable
donations. That's a record. But they gave so much more of
themselves. It has been estimated that if government had to pay for
all the things volunteers do, it would cost taxpayers another $110
billion annually.
But it is not always the poor and the troubled who need a helping
hand. Sometimes a youngster needs some direction on what to do
with his or her life.
There have been many wonderful people in my life who have
helped me along the way. When I was a lifeguard in Dixon, I met Sid
Altschuler of Kansas City. I taught his daughters to swim, and Sid
was kind enough to take a personal interest in me. This was during
the Depression, and there were few men who could look beyond
themselves to ask a kid what he was going to do for a living.
He spoke to me about the "undreamed-of directions" I could
follow "to a great future, once you are in. That's the important thing
now," he said, "getting in. So start knocking on doors. Tell anyone
who'll listen that you believe you have a future in their business, and
you'll take any kind of job, even sweeping floors. Just get in."
So I started knocking on doors, and soon WOC in Davenport
had a new sports announcer and Lowell Park in Dixon had to find a
new lifeguard.
Today's youth would do well to take Sid Altschuler's advice. Their
lives, like so many of their elders' lives, will go in "undreamed-of
directions." Like me, they will have many careers in their lives,
because today's world is changing even more rapidly than the world
I knew when I was starting out.
Over the years, I have held many jobs and made many career
changes. In my lifetime, I have done construction work, been a lifeguard,
broadcast football and baseball games play-by-play, appeared
in movies and on television, and served as a spokesman for a major
corporation. And there were one or two other positions after that.
As Thomas Wolfe wrote: "If a man has a talent and uses only half
of it, he has partly failed. If he has a talent and learns somehow to use
the whole of it, he has gloriously succeeded, and won a satisfaction
and triumph few men ever know."
This is the challenge of success—to find out what you can do and
how well you can do it. There is no better place in this world to meet
that challenge than in America. Here every man and every woman
has the opportunity to live their dreams and test their talents.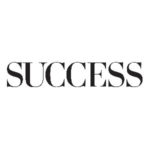 SUCCESS is your guide for personal and professional development through inspiration, motivation and training.