From the Archives: Mark Victor Hansen
The world was closing in on Mark Victor Hansen. Aloft at 30,000 feet, the 24-year-old Hansen heard a stewardess call his name over the public address system. His creditors had found him! He was trapped. But it was only an innocent message. Nevertheless, Hansen knew that it was just a matter of time before they got him.
Three years earlier, in 1971, Hansen had studied under Buckminster Fuller, then gone off to New York City to start a company to commercialize one of fuller's signature inventions, the geodesic dome. "We had a cat by the tail," says Hansen of his new firm, which hit $2 million in annual sales in three years.
But then the Arab oil embargo of 1974 struck. Hansen had been constructing the domes with a skin of polyvinyl chloride (PVC), a petrochemical product that got suddenly scarce. Despite Hansen's pleas, his supplier diverted his PVC to bigger customers. Overnight, Hansen was out of business. Since he had personally guaranteed his company's loans, both the company and Hansen fell into bankruptcy.
Hansen couldn't afford the $300 for a bankruptcy attorney, so he had to represent himself. "Not even my dad would lend me money to eat." He argued with friends who had loaned him money. "They'd tell me to sell my car." But he'd already lost the car. The court had even taken some of his clothes. Finally, a friend allowed him to live in the hallway of his apartment. And there he stayed – for six months.
Then one day, Hansen heard an audiotape of Cavett Robert, a motivational speaker. He listened to it more than 280 times. Robert seemed to be speaking directly to him when he demanded, "Are you a creature of circumstances or a creator of circumstances?" He picked himself up out of the stairwell with new energy – and a new vocation. He'd follow Robert into the motivational speaking business. He booked 28 engagements in the first few weeks alone. "I had nothing behind me but galloping chutzpah," says Hansen. But he was a hit on the podium.
Hansen will bring in $2.5 million this year through speeches, audiotapes, and videos. He teaches the lesson that he himself learned in the mid-'70s. "Many people think they're down because of what the world is doing to them," he says. "But it's really because of what's in their heads."
For more from Mark Victor Hansen, check out the SUCCESS store.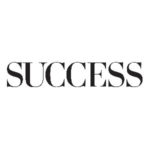 SUCCESS is your guide for personal and professional development through inspiration, motivation and training.