Food Network Star Guy Fieri Shares His Recipe for a Booming Brand and a Balanced Life in the June Issue of SUCCESS Magazine
DALLAS—Restaurateur and TV host Guy Fieri is one of the most commercially popular—and out of the box—chefs in the business. This has sometimes drawn the ire of his critics. But Fieri's fast and furious rise to fame shows no signs of slowing down. And his brand, a global behemoth that spans dozens of restaurants, five books, multiple hit TV shows, a line of sauces, a collection of cookware, a brand of knives, and an upscale wine, continues to expand. In SUCCESS Magazine's June cover story, the food world's most down-to-earth chef shares how he tunes out the noise, puts his family first, and keeps his brand fresh.
SUCCESS Editor-at-Large Michael J. Mooney, cuts to the core of Fieri's mass appeal in "The Real Guy," revealing a down-to-earth, family focused, and unlikely chef who doesn't play by anyone's rules but his own.
"If there are 100 people who don't like me, 90 of them don't have a reason. Have I pissed some people off? Yes. Have I done wrong? I'm not sitting here saying I haven't. But most of the negativity is entirely superficial. Am I supposed to stop being me? If someone boos a quarterback, does that mean he stops throwing his favorite pass?"
–Guy Fieri tells SUCCESS, June 2016 issue
The majority of us aren't professional chefs— but that doesn't mean we can't reap the rewards and hard won lessons of the kitchen. In the in this month's feature story, SUCCESS managing editor Jesus Jimenez tries a month of Plated to learn how to cook. The story offers a sneak peek into the messy (and hilarious) journey of a bachelor trying his hand at gourmet (and not so gourmet cuisine). In the end, he learned more than a skill—he learned the importance of family, the power of imperfection and pushing yourself outside of your comfort zone.
Also Inside This Issue
SUCCESS Magazine's June issue is all about the things that nourish us – both literally and figuratively. The issue serves up stories on what we need mentally, spiritually, and physically to thrive.
Among other features, it highlights:
33 Ways to Feed Your Soul—Just as we strive to eat healthier food to nourish our bodies, so must we also find ways to nourish our mind and spirit. In this article, writer Sally Deneen offers 33 simple ways to recharge, renew, and reconnect.
All in the Family—SUCCESS contributor Chris Raymond takes a different perspective on work-life balance: the role of fathers juggling business and family. While famous fathers like Barack Obama and Mark Zuckerberg have found the balance, how does the average father find it? The article also offers six tips for better parenting.
Thanks for Making Me a Fighter—Shazi Visram is the daughter of immigrant parents who worked tirelessly to overcome poverty after leaving Pakistan. Now, Visram is the founder and CEO of Happy Family, an organic baby food company (estimated to bring in $150 million this year) and is helping other entrepreneurs from low-income areas achieve their dreams with the Network for Teaching Entrepreneurship.
The issue also takes a look at how food can give back to the community. In "Serving Time," resident positivity columnist Patty Onderko takes a ride on Drive Change, Brooklyn's nonprofit food truck that hires and teaches former inmates everything from cooking to customer service. In its third year on the streets of New York, Drive Change is making more of a difference than ever, empowering the formerly jailed to create a brighter future.
For full stories, pick up the June issue, on newsstands May 12. For more information about SUCCESS Magazine and additional personal development content, click here.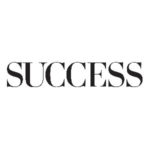 SUCCESS is your guide for personal and professional development through inspiration, motivation and training.