Does your life ever feel out of sync with what's most important? Maybe it's time for reinvention. Let these stories inspire you.
♦ Corporate World to Comedian
Former Intel engineer Dan Nainan took a comedy class to overcome his fear of presentations. When he lost his job, he took to the comedy stage. He eventually found a niche doing "clean comedy," landing an Apple commercial, performing with Jerry Seinfeld and others, even opening a comedy club in Bethesda, Md. He's living the dream, and has more than doubled his salary. His advice: "Put down the TV remote and beer, and pick up a pen and write your screenplay or jokes, make your movie or work on your dance steps."
♦ Midlife Wake-Up Call
Claire Cook always wanted to write, but juggling teaching jobs and raising kids left little time. So she began writing in a notebook during her daughter's swim class. Her second book became the movie Must Love Dogs. She used earnings from her writing to put her kids through college. She now writes full time, has a new novel out this summer called Seven Year Switch and hosts reinvention workshops. "Rise above the negativity," Cook says. "Lots of people will tell you why you can't or shouldn't do whatever it is you want to do. You just have to decide to do it anyway."
♦ The Power of Half
Hannah Salwen, 14, was bothered by disparities she noticed between rich and poor, which prompted a life-changing family discussion. The family realized their American dream was distorted: "Our lives were focused on accumulating stuff, and on keeping up with the Joneses," Hannah tells SUCCESS. They decided to sell their big landmark home in Atlanta, move to a house half its size, and give half the proceeds (more than $800,000) to alleviate poverty in Africa.
Hannah and dad Kevin share the story in their book, The Power of Half. "We found that our giving completely transformed our relationships with the most important people in our lives—our family," she says. "We always call our project the most self-interested thing we ever did because of how much it improved our togetherness and trust among us."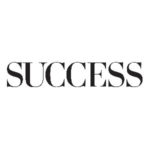 SUCCESS is your guide for personal and professional development through inspiration, motivation and training.