Ep. 73: 8 Keys to Workplace Etiquette
This episode is sponsored by altMBA and Slack.
Etiquette… a thing of the past or a necessary practice that has changed with the times? Shelby and Josh explore the meaning of etiquette and manners on this week's episode. They sit down with the great-great-grandson of Emily Post, and they share eight keys to nailing workplace etiquette.
Takeaways:
Daniel Post Senning, great-great-grandson of Emily Post and president of the Emily Post Institute, defines the difference between etiquette and manners: "We talk about etiquette being a combination of manners and principles. And the manners are a big part of it, but to me, an even bigger part or an equally important part are those core principles of consideration, respect and honesty."
Josh and Shelby pull some etiquette tips straight from the SUCCESS.com article, "8 Keys to Nailing Workplace Etiquette":

Give your full attention to the person in front of you, not your phone.
Know when to make exceptions to the rule above, like when your boss is calling.
Don't use your phone as a security blanket in social settings.
Don't drink too much at the office happy hour.
When writing reference letters, focus on the good.
If you get stuck while writing the letter, ask the former employee if any projects should be highlighted.
Check your office guidelines about workplace fraternizing.
And finally, don't stress about workplace etiquette. Rely on your intuition.
Favorite quote from this episode:
"Any time you have two people who come together, you have etiquette. Etiquette isn't a rigid code of manners. It's simply how people's lives touch one another."
—Emily Post
You might also like:
Sponsors
Thanks to Slack for supporting SUCCESS Insider. Slack: Where work happens. Find out why at Slack.com.
Thanks to altMBA for sponsoring SUCCESS Insider. altMBA is now accepting applications. To find out more, visit altmba.com/successinsider. For special consideration, mention this podcast in your application and tell them SUCCESS sent you!
SUCCESS Insider is a weekly podcast to engage, educate and inspire emerging leaders and success seekers.
Every week, SUCCESS.com's Shelby Skrhak and SUCCESS magazine's Josh Ellis will discuss the latest trends in personal empowerment, entrepreneurship and career development. We'll dig into books, ideas and news you'll want to know about. We'll chat with special guests, including authors, industry experts, business leaders, trendsetters on our staff and other all-around successful people. And we'll have a lot of fun doing it. Join us!
Find complete SUCCESS Insider archives at SUCCESS.com/successinsider.
Find more SUCCESS podcasts at SUCCESS.com/podcasts.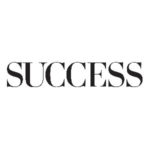 SUCCESS is your guide for personal and professional development through inspiration, motivation and training.