And the 2015 #SUCCESSBlogStars Are…
When we asked you to nominate your favorite blog—the one you turn to for inspiration, for advice, for life skills, for leadership, the bloggers who motivate you—you delivered.
In our first-ever SUCCESS BlogStar Awards, a talent search contest to find and recognize the most influential self-improvement bloggers on the web, we received more than 500 nominations. Five hundred.
We narrowed the selections down to 60 outstanding finalists to advance into the voting round. Out of those selections, the 12 blogs that received the highest number of votes and best judge score (based on quality of writing, frequency of blog posts and poll results) won the official title of #SUCCESSBlogStar.
These top bloggers will appear in the January 2016 issue of SUCCESS magazine, on newsstands in December, and will have the opportunity to contribute to SUCCESS.com.
So, without further ado, here are the 2015 #SUCCESSBlogStars:
ADDICTED2SUCCESS
addicted2www.success.com
Addicted2Success empowers and inspires people by spreading knowledge of self-development and life-changing stories to the world. We show you what it really takes to become a successful human being.
BE MORE WITH LESS
bemorewithless.com
Be More with Less is about simplifying your life and really living. Living with less creates time and space to discover what really matters. Through de-cluttering, and focusing on the best things instead of all the things, you can create a life with more health and less stress, more space and less stuff, and more joy and less obligation.
BECOMING MINIMALIST
becomingminimalist.com
The best things in life aren't things, and we found a better way to live centered on more important pursuits. Becoming Minimalist is about our journey toward a rational approach to minimalism. It is about the joys and the struggles. It is about the lessons we have learned. And it is written to inspire you to intentionally live with less—and find more life because of it.
CHRISTOPHER COOK
chriscookis.com
Do you want to make a good life a great one? Or maybe you're frustrated with a relationship, disappointed by a significant loss, without a sense of purpose for your life, worn out, tired or just feel stuck. I know life can be really messy, and for a lot of people, conquering the world isn't as much as a priority as conquering Monday. It's for that reason I want to help you discover and develop your untapped potential so that you have a clear path to get from where you are to where you want to be.
EVERYDAY BRIGHT
everydaybright.com
Do you ever hear a little voice in your head wondering, Is this it? Are you restless and dissatisfied, even though from the outside you appear to have it all? Ambition and big dreams will take you far, but without a sense of what's really important to you, it's easy to wind up in a pretty unfulfilling place. A scientist by training and an optimist at heart, I can show you how to get serious about changing your life for the better.
KIM ORLESKY
kimorlesky.com
In 2014 I decided to finally live my dream—I went from a steady relationship and a successful career to being single and living out of a backpack to travel the world. I traveled solo for six months, crossing 17 countries on four different continents. And that's when my heart told me it was time to become a life coach.
KRIS CARR
kriscarr.com
I've been living with cancer for over a decade and it's taught me so much about purpose, passion and wellness. This is my soul space where I share my experiences and reflections about mind, body and spirit and all things "Crazy Sexy"—aka out-of-the-box, game-changing, trailblazing, and empowered, whole, awake, active.
MR. MONEY MUSTACHE
mrmoneymustache.com
As a 30-something retiree, I write about how we can all live a frugal (yet badass) life of leisure. The whole country seems to be living ridiculously expensive lifestyles while thinking they are completely normal, and then being baffled when they have no money left over to buy their own freedom. So Mr. Money Mustache is about how you can create a life that is better than your current one—and that just happens to cost 50-75 percent less.
SMARTCHIC
smartchic.me
SmartChic is about inspiring women to know they can do absolutely anything they put their mind to in life, to get unstuck, motivated and moving forward. But they must first take full responsibility, stop wasting time worrying about what others want them to do and focus on what makes them happy—to do what they want to do.
STEVEN AITCHISON
stevenaitchison.co.uk
I have realized many of my dreams in life, simply by following this basic three-step process: Change your thoughts, change your beliefs and take action on the things you want in life. My journey has changed me in ways I can never imagine. I overcame my fears along the way, so now I am more confident in myself. I also learned how to handle failure, so now I am more successful in whatever I do. And most importantly, I get to help others.
THE WARM MILK JOURNAL
thewarmmilkjournal.com
For many years, I was challenged with anxiety and insomnia issues. Through inspirational essays about living the life of your dreams and tips on journal writing to get yourself centered to meditation exercises and quotes that promote a peaceful and loving state, my mission is to create a comfort journal that you can turn to in times of need. Together we can develop tools that will help us sleep better and live a healthy and well-balanced life.
180BIZ
180biz.com
180Biz helps small-business owners improve their business management and leadership skills in a manner that enables them to re-take control of both their businesses and their lives.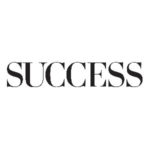 SUCCESS is your guide for personal and professional development through inspiration, motivation and training.